This might apply to other Ecotric models that use the 810LED display. The18Amp controller paired with mine (20" folding fatbike) is limited to the LED analog display and can only support three PAS levels. On the fatbike, the first PAS level just seemed stonger than I wanted, so I replaced the controller and also the LED display. I've got several other bikes using the KT36/48SVPR 20A sinewave controller with the LCD3 display and LCD1 display, so that's what I put in.
The swapper has to consider the connectors for throttle, PAS sensor, speed sensor, brakes, motor, motor sensors, and power.
1) Power is straight forward. Both the KT and Ecotric use red and black for power. I matched them.
2) Most modern motors use heavy yellow, blue, and green wires for the motor phases. Both the KT and Ecotric use bullet connectors and I matched the colors.
3) The motor's sensor connections consist of six wires, but the Ecotric only uses five of them. The red and black are power. Yellow, blue, and green are position sensors. The white is not used by the Ecotric controller, but it is a motor speed signal. This will be a headache because the KT controller is a different style connector. The left image show the Ecoctric after I cut off the connector from the motor. The middle image shows the KT plug, which is a 2x3 connecttor and a matching connector. These are often used in ebike kits. You can buy this connector. Probably take six weeks from China. See link at bottom.
The KT connector's six wires will match by color to the six wires on the Ecotric motor cable. One could splice directly without using connectors, but I chose to use a matching connector off of another motor I had. The right image above shows the white connector spliced into the Ecotric motor cable.
4) KT controllers can calculate the bike speed if you put in wheel diameter and supply a speed signal. That signal happens to be built into the 20" fatbike motor cable's white wire, and if you connect it to the white wire on the above connector, you're all set. A few other parameters need to be set in the LCD setup for this to happen, but I'll not get into that. If your bike motor doesn't have a speed signal, there is a separate connector (shown in the middle picture) that you connect to an external speed sensor ( about 8-10 dollars on ebay).
5) For my KT controller, the throttle connector is a JST female plug with red/black wires for power/ground and blue for the signal. The Ecotric throttle cable will have a JST female plug with red/black for power/ground and white for signal. You will have to swap it out for a male JST plug and match the functions.
6) For my KT controller, the PAS connector is a JST 3 pin male plug with brown/black as power/ground and signal was yellow. The corresponding Ecotric connector uses a JST male 3 pin plug with red/black as power/ground, and signal is green. Again, swap it out for a female plug and match the functions.
For the last two connectors, note that one could trade the female and male connectors on the throttle and PAS cables, and not have to go find new JST connectors. One could also trade them on the controller side instead of the sensor side. If you did that, then it would be easier to put the old controller back in, except that we did cut off the motor sensor cables. I have a junk box full of old JST connectors, and you can also buy them on ebay. I also have a kit of empty plugs/pins with a crimping tool to make my own, but my success rate in making them is like 20%.
7) My KT controller used brake connectors that matched the Ecotric. Whew.
I think that covers it. This took me about a half day to implement. I've wired up a number of ebikes, and unless you buy the controller, throttle, display, and PAS sensor as a complete kit, the colors of the wires and the gender of the connectors is all over the place, So I was used to having to match connectors and functions. Fortunately, the colors of the wires used in the motors is somewhat standardized. I've found that the three thick blue, yellow, and green wires can always go together, and the thinner red, black, yellow, blue, green and sometomes white all can be paired. Other ebike hobbyists disagree and say they rarely match. Maybe I've been lucky.
I didn't talk about the LCD display, because you have to buy a controller and LCD display together.I never wire up the lights either, so I just ignored them.
Ebay link for the 2x3 motor connector.
• 2/3/4/6 way connector with fixed hook. • Female Housing Length: about 35mm. • Male Housing Length: about 18mm.
Ebay link for 3 pin JST's. I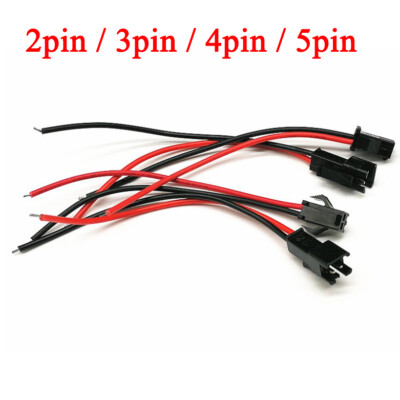 2pin / 3pin / 4pin / 5pin Male And Female JST SM Connector for led strip light. The length of 2pin cable is 10cm. The length of 3pin cable is 15cm. The length of 5pin cable is 15cm. 16ft/5M 5630 Waterproof 300 LED Light Strip Flexible Ribbon DC12V LED Tape Lamp.
One benefit of the controller change is that I did get rid of some cable slack, so it was easier to pack the new controller and cables back into the controller compartment.
The new controller allows me to also use 48V, if I wanted to do so, but I don't. Bike goes up to 20-21 mph on 36V and feels strong enough to me. I'v e had it up to 25.8 mph on a 52V battery.
Last edited: