With two bikes loaded on our Thule Easyfold, our brake and turn lights are partly obscured and made more difficult to see for drivers behind us. I try to be safety conscious at all times, an artifact from my career as a professional mariner.
I stumbled across this video, demonstrating how to fit our Thule Easyfold XT2, North American model without built in lights like those that come on the Euro model.
As our car did not have the trailer wiring harness pre-installed, I first had to install that. I got the correct Curt harness for our car, a 2018 Toyota Highlander Hybrid XLE/ It cost $35 on Ebay came with so so, more generic instructions so YouTube came in handy once again.
The Curt rear light kit was $34 shipping included on ebay.
Curt 53201 Auxiliary LED Indicator Lights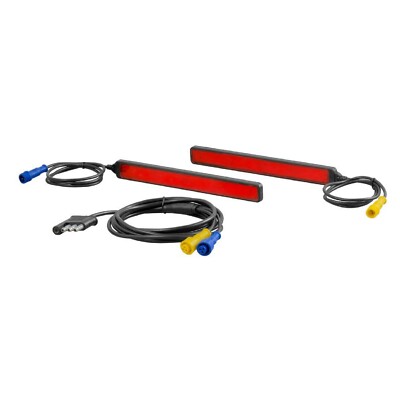 Part Number: 53201. Auxiliary indicator lights for increased safety on cargo carriers or bike racks. Double row of LEDs in each strip correspond with brake, turn and running lights. Wiring Type: Auxillary Lights.
It works just fine and now we are a little better protected from someone who can't see our car's brake lights, failing to slow down or stop and running smack into our bikes.