This motor is being sold on ebay nicely laced into a decent looking rim.
They are apparently from a defunct bike share, Jump bikes, new/unused. I bought one last year without a real plan for it and a few days ago did a test installation in my 26" Dahon Jack folder. I think it works really well, quiet with good assist. The rims aren't machined for rim brakes but the rim brakes on my bike still seemed to work as good as ever (as in excellent).
The Bafang product page specs are incomplete so I had to hunt around for parameters to set my KT LCD8 with KT 22a max controller.
FYI:
it has 16 magnets and 11x reduction (so P1 is 176)
6 internal speed sensor magnets (P2)
it has an internal motor temp sensor which shows on the display, a nice touch
it has double reduction gears, I assume makes for good hill climbing, maybe at the expense of top speed but I'm not sure about that because I haven't tested it on hills or top speed.
Given that it was the chosen motor/wheel for Jump bikes I assume they considered it to be good performing and durable.
When I bought one last year I offered $30 which was instantly accepted so it was $58 shipped plus tax. With a display/controller and peripherals it could be a ~$200 ebike kit plus battery.
I won't be leaving it on the Dahon but will keep it as a replacement, if needed, for the MXUS geared front hub motor currently on my wife's Biria easy boarding bike if that motor should ever fail.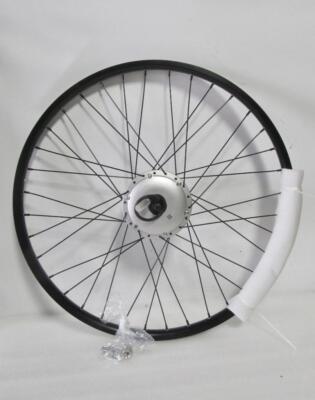 New Bafang FM G320.250. R 26" 250W DC36V Front Wheel Electric Motor Rim JUMP Bike. R 26" 250W DC36V Front Wheel Electric Motor Rim JUMP Bike. The item exteriors may have minor scratches, scuffs, dents, cracks, nicks, etc.
Last edited: