While we have a couple of threads going on this model, they were for specific problems/questions, so I thought I would start a new one, talk about my 2019 +3, and invite comments discussion and questions on both the +3 and +4 US models, for owners and would-be owners.
I've put a couple of hundred miles on so far and really like the bike. There are way many more things that I like than things I don't. So I'll post a few points, a pic or two, and open this for posts/discussion.
I'm 62, 5-10, 180lbs
Avid rider, although never as much pedaling as I liked, spent much more time on motorcycles. Now the latter are all sold due to age and risk, so getting wife and me ebikes opened up a whole new entertainment opportunity for us. We're having a ball!
Likes
Comfortable - I changed out the stem riser to a 45* - 90mm length. Substantially improves the stance for me.
Good power assist - I mostly ride at level 3, sometimes 4, and occasionally 5 if I'm tired, a steep hill, or just being lazy. At level 3 I'm getting somewhere around 45-50 miles of range.
Seat/Saddle - is more comfortable than I thought it would be. Not changing it yet. The 2020 model has a different saddle.
Ease of riding - at least as easy as my pedal bikes. I really like a 700c/28-29" wheel bike, so this was a natural.
Brakes - the 19 model has Shimano hydraulic discs - the 2020 went to Tektro hydraulic. The Shimanos are flawless.
Color - for 2020 Giant went the a satin black with blue accents. I got one of the last '19's and really liked the bronze-gray color with hyper-green accents.
Giant Ride Control App - this is a way cool feature that connects your smartphone to your sync-drive power control for all ride data, speed, odo, battery level, assist fine tuning, and GPS mapping. It's a little balky setting up but once you get it dialed it's really slick. I use mine on a iPhone 6Plus with a ROAM mount.
Battery integration and design - all good. I think they did a good job on this, and I like the swing-out removal feature.
Dislikes
The fork is really minimal for a suspension. Here again, the 'updated' 2020 model doesn't have a lockout, the '19 does. But you can dial the preload in enough to make the '20 one really firm. IMO this isn't as much of an issue on a ebike since the pedal power loss from suspension is made up for with the e-assist. It's really nice to have something up front though, for rough roads, driveway ramps, expansion cracks, uneven pavement. I don't know how much offroad mine will see...probly not much. LOL
Shifting - I finally had to do a tuneup or adjust on the derailleur - it wouldn't shift up to higher gears, then would clunk into another gear or two when ramping up pedal pressure with the assist. There is no motor shut-off for shifting with the Yamaha mid-drive, so you have to let up or it clunks pretty bad on shifting. Once I got my derailleur adjusted shifting became effortless.
Tires - I wasn't impressed with the relatively skinny 'crosscut gravel' tires that come with the bike. Same for 2020. Right away I changed them out for Schwalbe Marathon 47-622's, pretty much the same size as the stock tires. They were fine, if not a little hard unless I aired down to about 35lbs. So I decided to get Schwalbe Big Apple tires in 60mm, or 2.3 inches wide. They're beautiful. Interesting that the rear rim is 25mm wide with eyeleted spoke nipples, the front is 19 with no eyelets. They really beefed up the rear wheel for 'E' power.
There is no charge port for your phone.
There are no lights, not even front or rear reflectors. I'm researching my options here, but rarely ride at night anyway - I can't see well after dark anyway.
Later I'll post more pics, and a list of accessories and changes/upgrades I've done on mine.
So without further ado...here's a pic of mine with the new tires, and now I want to open this up for more discussion, question, and comments.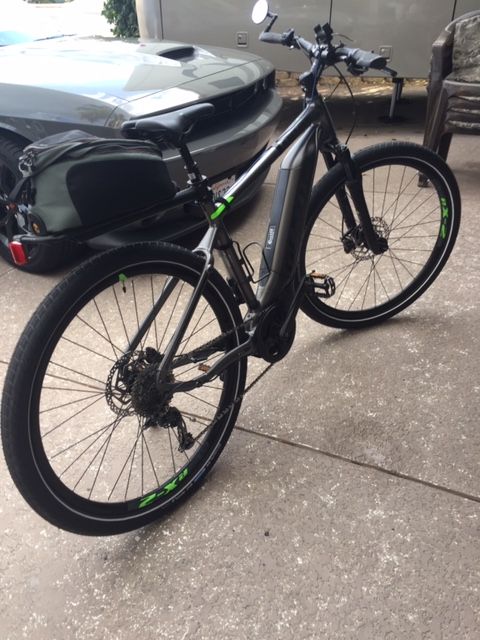 The bigger tires just fit: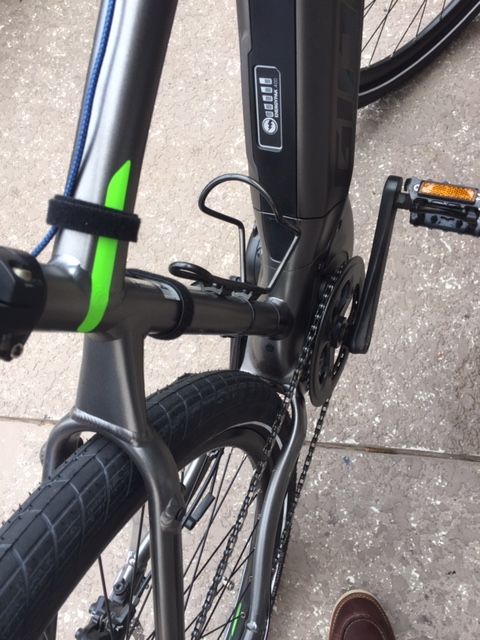 Just got it here, has the Marathon 47-622's: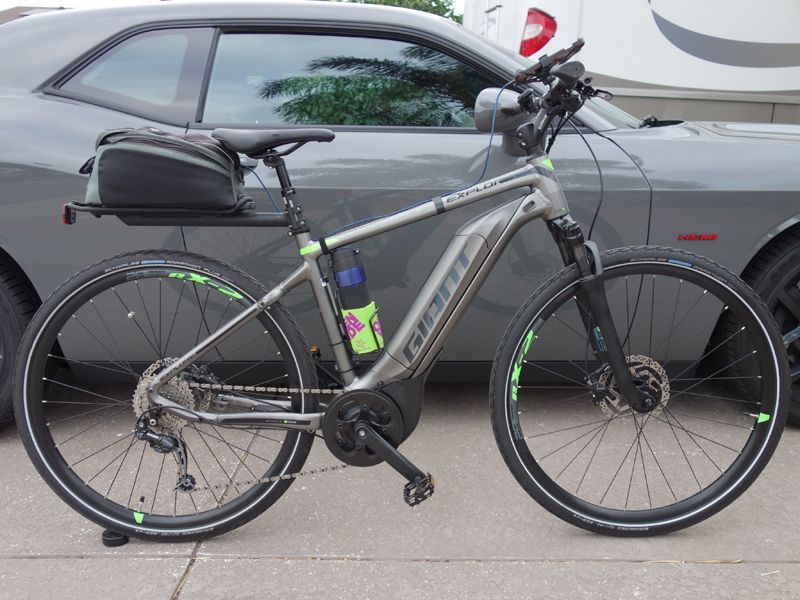 Last edited: