Ok, so the sunshine here is as often liquid as not,
but we do get warmer rain in summer than winter!
Anyway, something about myself, I have been interested in E-Bikes since around 2007, built the first for my dad around late 2008, early 2009, (Amped Bikes 36V Direct Drive Hub Motor) and then got into them myself as I enjoy riding, and the E-assist really made a huge difference allowing us both to ride more when health issues often prevented us otherwise.
These days, I am far more interested in mid-drive E-Bikes (been experimenting with them myself in the form of a re-purposed DD Hub motor as mid-drive since around 2011) as they really make a huge difference going up hills and then on the flat at different speeds, carrying cargo, etc. than just a typical DD hub motor stuck in a bicycle wheel rolling around at pretty inefficient speeds (especially in the 26 & larger sized wheels) compared to a mid-drive which allows the motor to spin much faster & efficient RPM, regardless of the bicycles' speed.
I am currently building my own E-Bike frame, and hope to have something to show by next spring (just need to sell some more bikes to help fund the project!
) and hope to promote it on a US cross country trip (Following the Oregon Trail possibly).
I have built and used everything from hub motor kit E-Bikes (DD and geared), friction drive with R/C motors (Out-runners) and Goldenmotor's "Trike Motor" as a mid-drive for a Recumbent Vision R-40.
I have mainly used Mountain bikes, but also have experimented with road & hybrid bicycles, until I got the recumbent bug (friend gifted me a Vision R-40!
) then went on my first long distance bicycle tour (about a 250 mile trip over 7 days with 150lbs of bike, food & camp gear, and couldn't have been more comfortable!
I practically refuse to ride on the average "torture device" that most bicycles come equipped with these days (if you have to "get used to" or "wear in" a saddle, you're really doing it wrong!
why ride a "wedgie" bike when you can ride a recumbent with a "Lazy-Boy" recliner style seat?!
)
These days, I ride this bike as much as possible: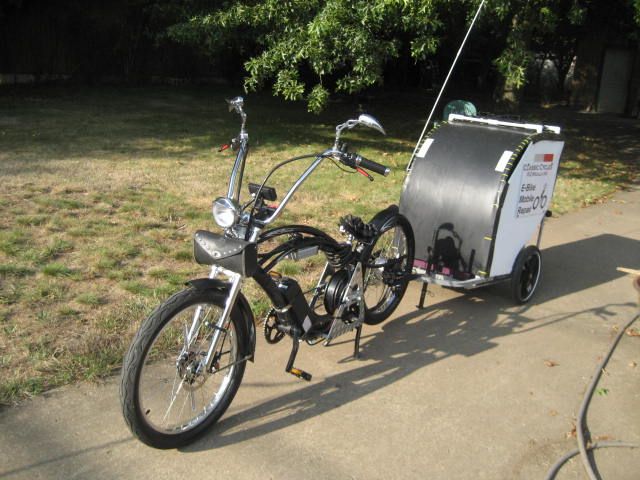 I am currently employed as an E-Bike builder & have studied at United Bicycle Institute for all courses including Bicycle Mechanics, Frame Building (TIG Welded Titanium & Steel, Brazed Steel (Lugged), Wheel building, Suspension and Brakes, and Bicycle Shop Business Management.