VS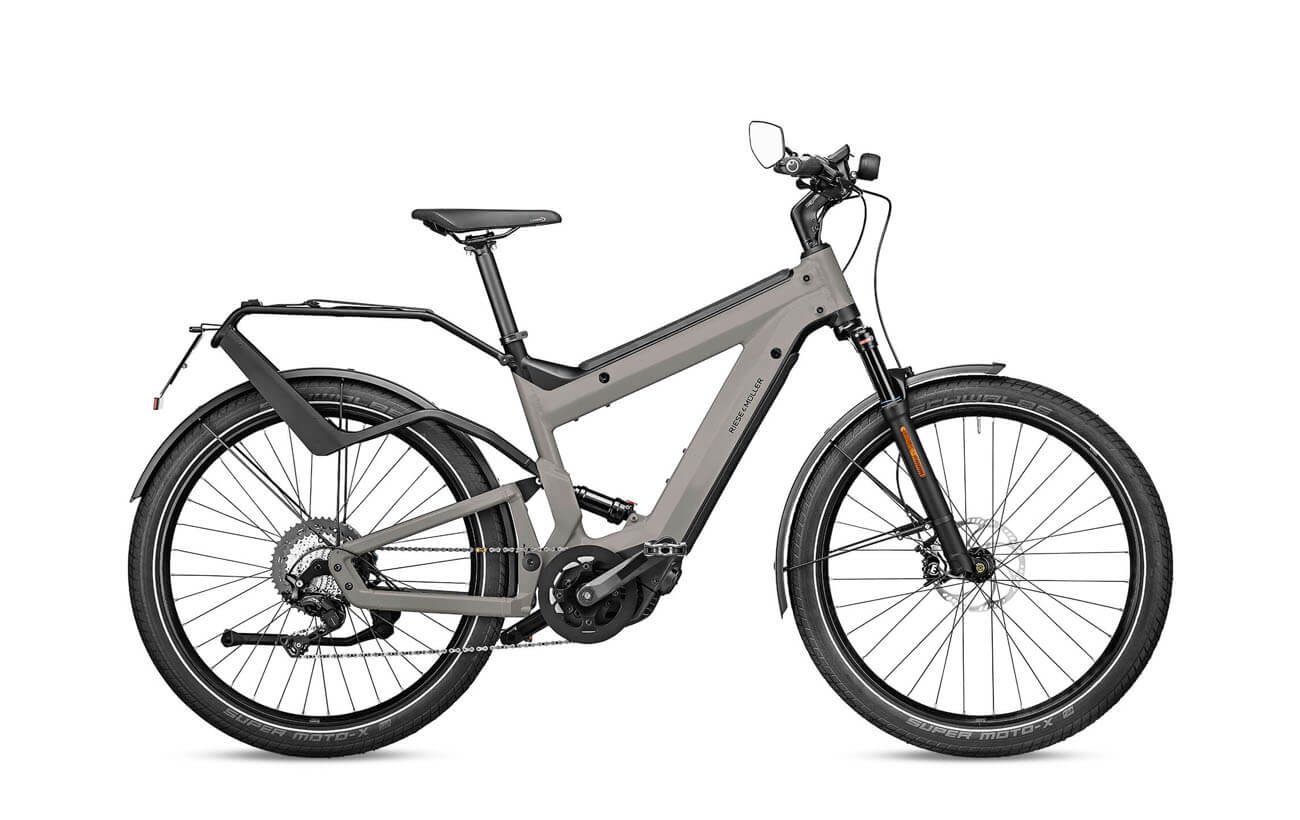 These are the all-new Riese & Muller 2020 electric bikes! The Riese & Muller Superdelite GT Touring HS features the new Bosch Performance Speed mid-drive motor with Bosch PowerTube 1000Wh (500Wh x2)
Both hAve :
-the 4th gen. Lighter Bosch 28mph speed capable motors(Cx/Perf. Line speed)
- battery: 1kw vs 1125wh (Trek)
WEIGHT : Trek is 50-52lb vs R&M 70-75lb !
Meaning: You can carry Trek up a flight or two of stairs w/o a potential cardiac arrest vs. R&M 75lb.
Or you can go to gym and exercise until can carry it easily. But even for a gym rat that is not easy to do (carry the 75lb ebike up 2 flights) day in/day out.
R&M has :
-the M99 Pro light (400$ ) value
-better brAkes(Mt5/4)
- the build quality is superior and superb lookS
- a higher price 8.5k
- the WOW factor(i bought an 8grand R&M)
TREK has:
- much better chain(Shimano vs Kmc light and unreliable for the power of a speed pedelec)
- 20lb lighter , therefore at least 50-75miles extra range compared to R&M . It is 625+500 vs 2X500.
- sexier design (carbon frame) /better agility in city traffic.
-MUCH BETTER DEALER presence/warranty.
TREK with boost rAnge is 7k vs R&M 8.5k.
At that price range , most customers would not flinch about the 1.5k difference.
Personally i will go with the Trek b/c i'm only a millennial and with that 1.5k i can buy some Tesla stocks (5-6 of them).
What about your preference ?
What other high end ebikes would compete with this 2 SUP's (Sport Utility Pedelecs) ?
Options:
Tier 1 Solid choices : M1 Spitzing R Pedelec ? (120nm / 1.1kw motor) WattWagon Commuter ? (Ti frame/custom made) . Mine's-BH Nitro city ? (2018/2019model).
Tier 2 Problematic choices : Specialized Vado 5 ? (Inferior product, cracked frames ) . Stromer St2S ? ( Reliability issues) .
As exciting as this 2020's ebikes are , the issue is with the technology changing so fast( Bosch is at it's 4th gen motor in under 4years), and battery density increasing. And possibly better displays appearing every year.
What else can dramatically change in 1-2years ? Abs/anti theft tech/airbags/heated handlebars ?? This are all present in motorcycles already. Is probably possible to have ABS installed on either one Of those ebikes. Definitely for R&M, not sure for TREK.
Last edited: