My wife doesn't want to ride it. I'm tired of her back and forth, so I'm selling it. The bike has 17 miles on odometer, comes with 2 Abus keys and key card.
The bike already includes everything you need and there is nothing to add with all high-end components - 25kg rated CarryMore rear rack, Skybeamer front and rear lights, SKS fenders, bell, Pletscher kickstand, and is powered by one of the most reliable and smooth latest mid-drive motors available from Yamaha (PW-ST).
I was able to readjust the front fender and it fits as intended now.
The rear bumper is a little warped on the left side, but doesn't affect the ride. I realized that the warpness is from squeezing in the fender into the rear triangle and saw similar setup in other Haibikes.
You can read about the full specs on Haibike website. It's their top of the line commuter bike for 2020 in the U.S.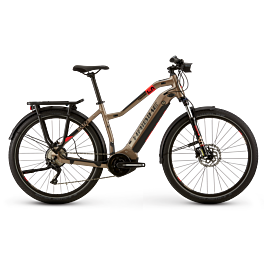 The SDURO Trekking 4.0 has everything you need, whether for short trips in town or for extended tours in the countryside. The Yamaha PW-ST motor allows you to accelerate smoothly and with power. A triple sensor system guarantees constant and optimum suppo

www.haibikeusa.com
Here's the bike review.
There are no discounts on this model at the LBS or online as it's the latest model and it's sold out in most places including Haibike website. The new price is $3200 + tax. Save yourself ~$600+. It's an awesome deal for an almost new (17 miles on odometer) built like a tank top of the line commuter bike from a premier German brand. It's leagues above bikes like Aventon, Ride1Up, Radbike, etc.
The size is supposed to be 44cm low step model, but don't let the frame cm fool you. This is a big bike and can easily accommodate a rider from 5'1" to 5'10", or even taller if you get a longer seat post I've tried the bike with extending the seatpost and I was able to get full leg extension, so it's fairly flexible when it comes to rider height.
The price is FIRM at $2800 + shipping, but I'd rather not have to deal with shipping and prefer local sale.
Last edited: