Region

Europe
City

Brwinów (PL)
Yes, there are numerous threads discussing pedals on this Forum. Most of them are at least two years old and forgotten. Perhaps we could start all over? As many of you are aware, there are
four
main categories of pedals:
Flat pedals, which most of us use. Regular or even casual shoes may be worn with flat pedals. Better flat pedals offer enhanced grip (e.g., "sandpaper" finish).
A Specialized "sandpaper" finish flat pedal
MTB dedicated flat pedals or proper platform pedals. These are equipped with adjustable pins, so the pedal fits the sole precisely as the pedal offers a concave support for the foot. Pins hold the foot firmly in place but the pins can destroy the sole. As @JayVee explained to me, dedicated cycling shoes for MTB platform pedals are available, for instance: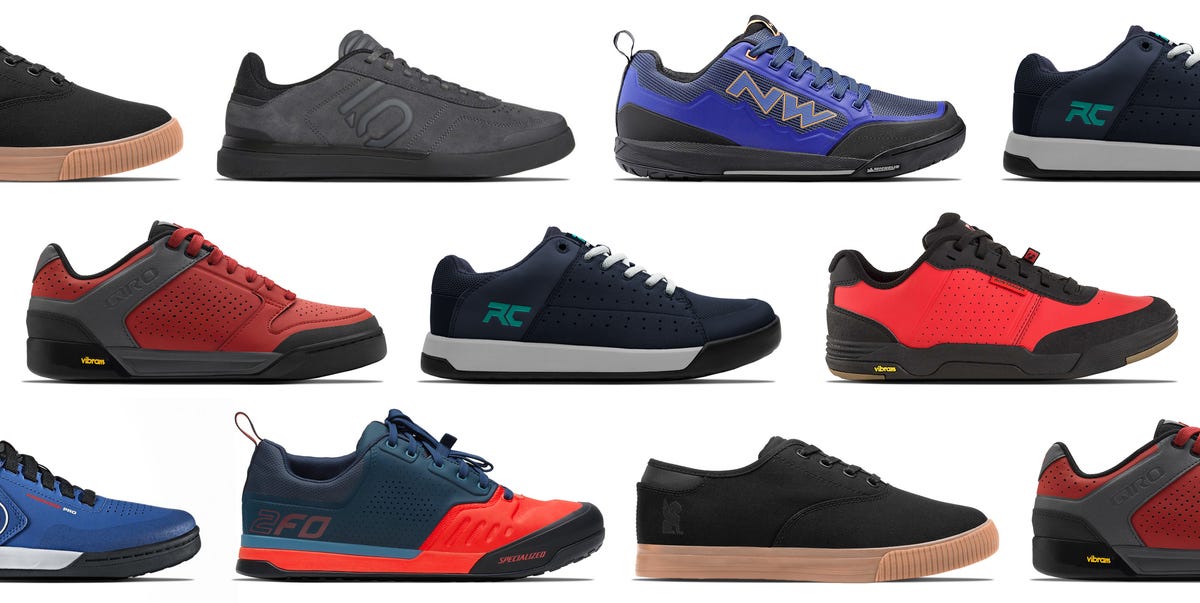 Riding in flat shoes is liberating and helps you hone your skills. Bonus! They can be worn casually, too.
www.bicycling.com
Ideal platform MTB pedals should be as flat as possible (to avoid contact with terrain obstacles such as tree roots, logs etc), as lightweight as doable and equipped with quality sealed bearings. They are typically larger than city/trekking flat pedals.
A Crankbrothers Stamp 7 Large pedal, dedicated for big feet
MTB variety of "clipless" pedals, that is MTB SPD system. You need dedicated cycling shoes, and you need to mount a cleat inside the shoe sole. You need to clip the shoe into the pedal prior to the ride. MTB clipless shoes are to some extent walkable (the cleat is hidden in the sole) as the mountain bike rider needs to release a shoe sometimes for example to support himself on cornering or to walk the bike up the hill. MTB SPD pedals can be one-sided, double-sided, single-release action (you need to twist your heel outwards) or double-release action (twisting heels or sharply pulling the foot upwards).
Shimano PD-EH500 SPD pedals for MTB. These are flat on one side and allow clipping in with cleats on the other, double action release
Finally, the road-cycling variety of "clipless pedals" which only allow riding with shoes clipped in. Such pedals are extremely small but the cleats are enormous. Special thing about this variety of cleats is these can be fitted at the shoe for optimal horizontal angle of the foot related to the pedal, and they can also be fitted forward-backwards for optimal contact of the foot with the pedal. Road clipless pedals are one-sided, single release action. It is hardly possible to walk in clipless road shoes. The intention is the rider stays seated for long hours of riding.
Shimano SPD-SL R550 road-cycling clipless pedals and cleats
The clipless pedals are believed to improve the transmission of the leg power into the cranks and ensure the most firm hold of the feet on pedals. True fact is, a mountain cyclist may pull the pedal upwards while climbing, thus adding more power to pedalling. Experienced MTB cyclists feel more confident with their feet clipped in, especially during jumping or a technical ride.
Now, I had a single ride in road-cycling shoes/pedals and I hated the whole concept from the beginning. As a commuter, I need to start and stop frequently. Road-cycling shoe sole is slippery and the large plastic cleat does not help while stopping. It is very hard to clip the previously released foot back into the pedal, as the latter is always upside down.
The MTB clipless pedal concept appears to be more appealing. Still, riding in clipless pedals I felt more effort and my butt hurt, which has not happened to me for a long time. I own several different pedals, of which the Crankbrothers Stamp feel the best for me, the Specialized "sandpaper" flats in the second place.
What are your experiences with pedals and cycling shoes? Is there anybody liking the SPD?
Last edited: