Advertise with Electric Bike Review
Put Your Shop on the Map!
Every day, tens of thousands of individuals discover and explore ElectricBikeReview.com with the aim of selecting the perfect ebike product for their lifestyle and budget. But that's only the beginning… where will they actually buy? We could have created our own online store here but instead, chose to remain objective and empower brands and dealers! The following video explains how the local shop tool empowers you to reach engaged customers and increase sales.
At this time we're working on some upgrades for our systems so you can't register for an account by yourself. Don't worry, we can still register it for you! If you're interested in signing up, just want more information, or are a current shop partner needing to request an update, please send us a message using the Contact Us form.
Designed to be highly visible, accountable and affordable, the local listing service is several years and over one two hundred thousand dollars in the making. We know that each local ebike sale means a properly assembled product, professional fitting, accessory sales, and recycling at end of use. Every bike sale becomes a relationship that builds the community and spreads awareness about important topics like safety, ride etiquette, and events.
For regions where local shops have not been established or added to our directory, select online shops will be shown. And, for brands that sell direct, the manufacturer may be added as a source and choose to be hidden when local shops are present. Shop listings will only be shown when a relevant brand is carried and our directory page allows for sorting by location and brand. Local shops will be given priority over national and official dealers.
Contact us to add your shop and brands to the EBR directory and local listing placement. You are welcome to call us directly at (970) 670-0792 if you are signing up so that we can walk you through the process and answer any questions. We want to make sure that every shop understands how the service works and feels confident in it.
Unbiased Reviews, Minimalist Ads
This site is designed to help people discover electric bikes and make informed decisions about which one to buy. Every review and comment reply is completed with care and all videos are provided free of charge. Written reviews are now offered as a premium service which includes category inclusion and searchability. Banners and promotion are also offered as paid services but are limited to improve user experience and load time. Ad types include right rail, homepage and forum banners, promoted reviews and geo-targeted placements for local and national shops as described above.
Qualified, Engaged and Informed Visitors
Electric bikes tend to be more complex and expensive than traditional bicycles and other sporting goods. As a result, the purchase process may become highly involved and require extensive research. The reviews here support this process and strive to provide unbiased feedback to visitors and between users. The image below shows unique visits clustered by location over a 30 day period in early 2017.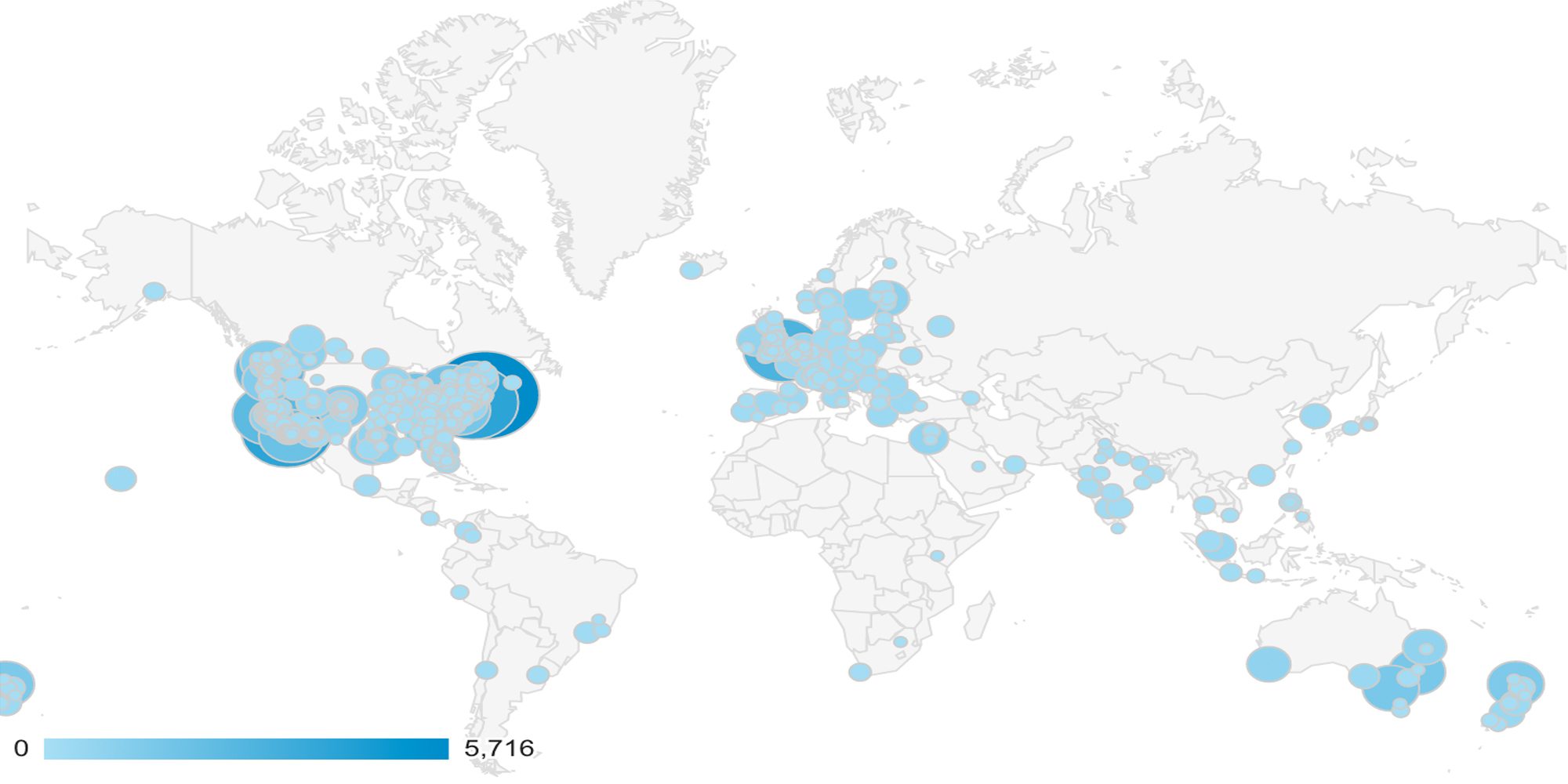 Further supporting the reviews I publish on the main site is a network of Community Forums designed to help users connect and fully flesh out their purchase intent. Each brand with reviews on the site gets a special forum area where enthusiasts and customers can connect. Ambassadors for brands are welcome to use this free service but must indicate their name and company affiliation.
Platform Agnostic Experience
This website and associated forums are responsive, meaning they literally respond to a user's chosen browsing platform and screen resolution. Content and ads look great on desktop, tablets and smartphone mobile devices. Go ahead, change the size of your browser window right now and see it in action!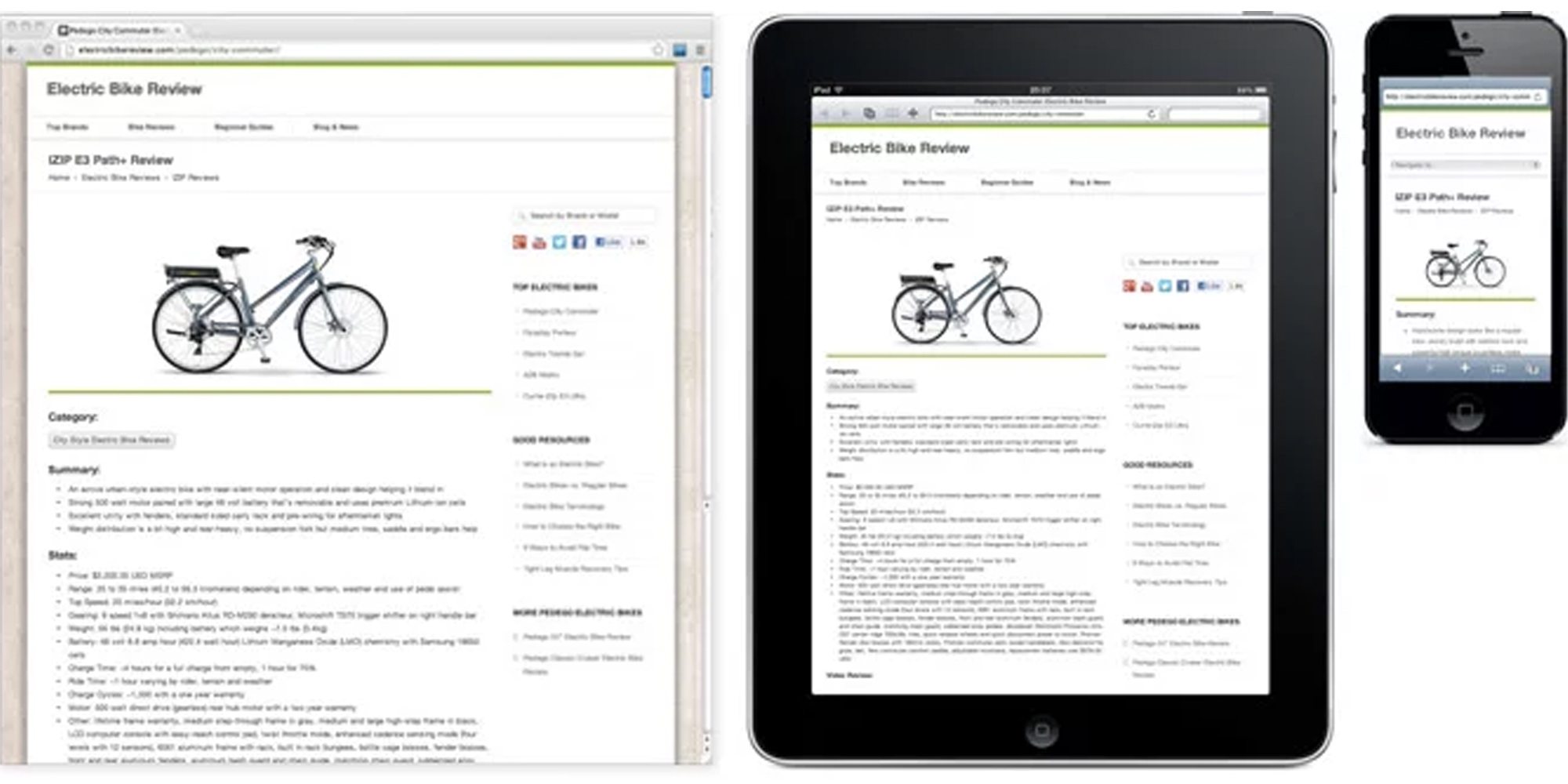 New web-enabled technologies have changed how readers ingest content. For example, discovery and research may begin on a smartphone, continue on a tablet and commence on a laptop. This site and its respective ads are designed to work well in all cases.
Secure, Trusted Advertising Platform
This site is a part of the Google Display Network which includes DoubleClick for Publishers and YouTube. Google is a leader and innovator in Internet advertising. They also strive for environmentally conscious business practices which reflect well on the clean technology and transportation space that ebikes are a part of.
As an advertiser, it is your duty to provide appropriate and legally viable imagery and shop data as well as keep it up to date.
What are Promoted Listings?
Reviews with the "Promoted Listing" tag (as shown in the screenshot below) have been elevated to the top of their respective category on the site in order to generate more awareness. ElectricBikeReview.com receives payment for this exposure but does not alter or enhance reviews in any way. It is my goal to provide unbiased, quantitative content that can lead to informed purchase decisions.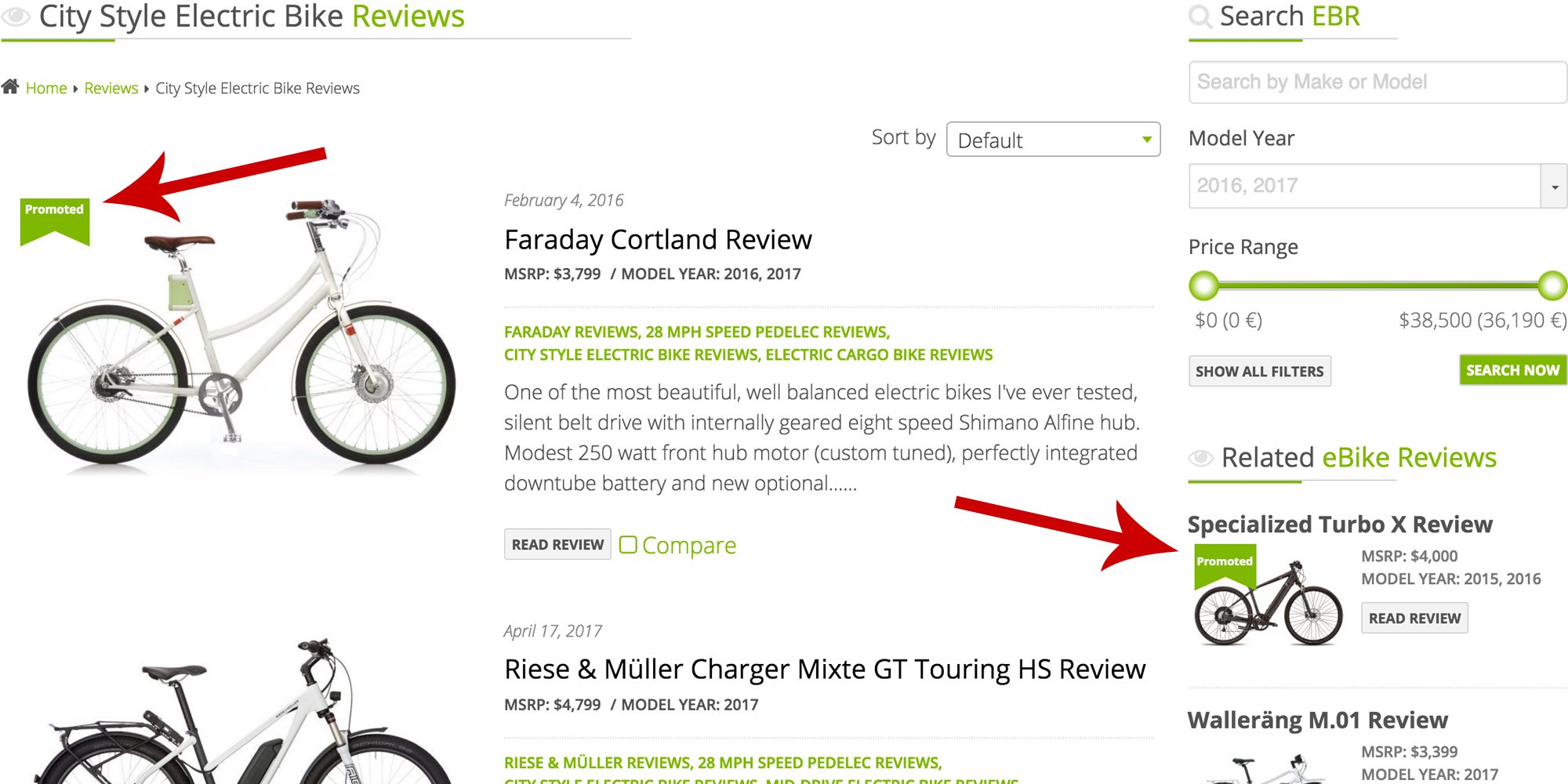 If you represent a company that is looking to increase exposure for one of your reviews, please contact me for more information. Reviews may only be promoted within qualifying categories on the site.