Best Affordable Electric Bikes of 2022
Here are my top picks for the best affordable electric bikes of 2022. These top five ebikes represent the best combination of features and value right now, but you can see all 198 of my detailed affordable ebike reviews listed by date here. Reviewing electric bikes is my primary focus, EBR has the industry's most complete and objective reviews. Since 2012, I've helped millions of people find and choose the best ebike for their needs and budget. Let's go!
Table of Contents:
Things to Consider:
Intended Use. Affordable electric bikes come in all shapes and sizes, just because it's cheap does not mean it's right for your intended use. The solution is to explore all major categories of ebikes and narrow down based on your needs… we list an "affordable" category winner for each category on our best electric bikes page.
Total Cost. Consider the added costs of accessories and assembly if you buy direct. Add-ons can be expensive… remember to focus on total cost. A fully equipped already assembled ebike might be cheaper. For assembly, paying the professionals at a local bike shop can save time and money vs. the tools and mistakes of DIY.
Reliability. Low-end hardware doesn't hold up to regular use, and repairs aren't cheap. It's hard to tell if low-grade battery cells and motors were used to keep costs down, but it is easy to see them fail under use. The solution is to buy from companies with proven reputations, using name-brand hardware for the most important parts of the bike.
Support. Ebike owners ride more often, and eventually you will need service and support. The solution is to buy from companies with solid warranties and wide availability of parts shared across many models.
Best Value Affordable Electric Bike for 2022

Priced the same as the RadCity model above, the Electric Bike Company Model Y (and high-step Model X), offer incredible value. If you're okay with the cruiser style, which foregoes a suspension fork for sprung saddle and long swept-back handlebar, then this is an excellent choice. The battery pack is positioned in the base of the basket, which looks great and provides some hauling utility. Integrated lights and fenders, hydraulic disc brakes, puncture protected tires with reflective stripes! This ebike has it all, and is a worthy contender for best premium affordable electric bike. The company is smaller, they only offer one headquarter location (in Southern California), and they don't have the service vans. Furthermore, the custom battery design is not interchangeable with the Model X, and the default drivetrain configuration is single-speed, so it's not as versatile for riding up hills. Just like the Rad Power Bikes, this one has cadence sensing pedal assist and a trigger throttle, making starts very easy. It uses a powerful, reliable motor, and the company has invested a lot of time into their battery technology to keep it safe, reliable, and long-lasting. Their ebikes use parts that are made in Asia (since that's basically the only source for most batteries and motors), but they hand assemble them in Newport Beach, employing Americans and creating jobs. They offer custom paint options, and even spoke the wheels in-house using very fancy high-quality equipment. There is a lot to love about the Electric Bike Company, they keep their offering pretty minimal (all cruiser style), but they do an amazing job on quality, customization, and price. Seriously, there is enormous value in the parts that they are using on these electric bicycles. Click the image or title below to visit the full review with more details, or add it to your compare list by clicking the box below.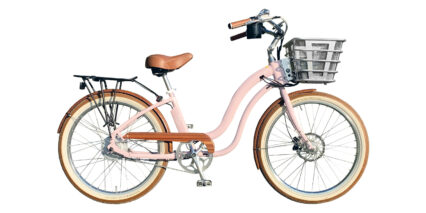 ---
A sturdy and powerful step-thru cruiser electric bike that's assembled and customized in America. Extremely well supported with great customer service and an industry leading five year comprehensive warranty! Ships fully assembled, 100% ready to ride on day one. Extra emphasis on charger and battery quality here with extra fuses and higher quality parts.. Comes standard with bright integrated lights (two 6-LED lights on the rear!) and reflective puncture-resistant…...
Best Affordable Affordable Electric Bike for 2022

Okay, so this is the cheapest affordable option… the lowest I would go in terms of price, while still getting a great product with good customer support. I chose RadMission, even though it's the cheapest product in the Rad Power Bikes lineup, because it offers amazing features for the money and doesn't feel cheap or disposable like some of the other ebikes I've seen at big box retailers and online… companies that I've never heard of before, that could easily disappear and not support their products. The RadMission is a one-thousand dollar electric bike that comes in two sizes, two frame styles, six colors, offers cross compatibility with higher capacity battery packs from other Rad Power Bikes models (including the RadCity, which one Premium Affordable above), offers a one year comprehensive warranty, and can be seen in person in several major cities thanks to Rad Mobile Service delivery vans. Did I mention it's available in the US, Canada, and Europe? Of course, there are trade-offs when it comes to price, and the RadMission is no different. Despite being the lightest model in the Rad Power Bikes lineup, I think it's still fairly heavy for a single speed. That's because they overbuilt the frame and fork to handle up to 275lbs, and have a headtube rack mount for an optional front basket. It doesn't come with a kickstand and the default plastic pedals seem a bit vulnerable if the bike is laid down on one side too hard… but hey, $15 will buy you a very nice guaranted-to-fit adjustable stand from Rad and you can get colored Aluminum alloy pedals for just $30 more. Between the optional fenders, front and rear racks, bags, side mirror, and suspension seatpost, there's lots of possibility with this platform. It comes standard with puncture resistant reflective tires and integrated lights, so they didn't skimp on safety or durability. The only other big consideration here is the single speed drivetrain, that's geared pretty high (or slow). As someone who likes having gears, I was bummed to learn that this is not an upgrade option. The good news is, Rad used a chain tensioner and alloy chainring guide so it would be very difficult to ever have this chain fall off or break. The custom made planetary geared motor offers amazing torque for its size and rating, you get a sealed cadence sensor, and of course… throttle on demand from any assist setting up to full speed (in North America). This is a game changer type of product that I believe will bring ebikes to many more people who could otherwise not afford or would simply skip out due to concerns about reliability. It's the kind of electric bike that you can enjoy riding and parking because it's tough and the potential loss to theft is much lower than an expensive bike. Click the image or title below to visit the full review with more details, or add it to your compare list by clicking the box below.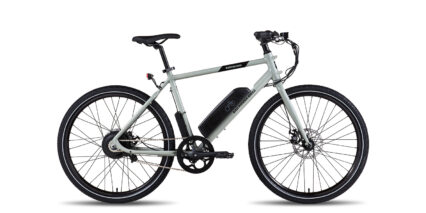 ---
The lightest, most affordable electric bike from Rad Power Bikes. Available in two frame sizes and styles including a sturdy high-step diamond and approachable mid-step mixte. Six color schemes let you personalize the bike and stand out, which is rare for cheaper electric bikes. Lots of attachment points for optional fenders, racks, baskets, bottles, and frame locks.. Surprisingly powerful geared hub motor offers 50nm of torque. Single speed drivetrain is quiet, durable,…...
Honorable Mention Affordable Electric Bike for 2022

For the longest time, none of the big-three ebike manufacturers qualified as being "affordable" on EBR, because our cutoff was $1,500 USD. I have since raised the mark a bit, because prices have increased across the board due to inflation and supply chain constraints. The latest Electra Townie Go! 7D (which is owned by Trek) totally hits the mark, and I am so happy to see a relatively affordable electric bike that is available in hundreds of shops across North America. That means no assembly, plenty of help getting fitted and choosing accessories, and in-person customer support ongoing once you've got the bike. The technology used here has been downgraded a bit from their mostly-Bosch drive systems on the more expensive models, but it works well and I trust that it will be reliable. This is an ebike that friends and family have been calling me to ask about, because they can see it in person! if you don't have a bike stand or tools, and don't want to spend the time and effort setting up your ebike… but you are also on a budget, the Electra Townie Go! 7D is a great choice. It has seven gears, a responsive pedal assist drive mode, comfortable tires, and a large bumper saddle. The riser handlebar promotes an upright body position, they include a color-matched chain guard, and they offer the bike in seven frame colors and two frame styles (high-step and step-thru)!!! While you save money on the initial purchase, you may actually spend more in total because fenders and lights are not included. Furthermore, the tires don't have reflective strips and are not puncture protected. Changing a rear flat tire with a hub motor may require the help of a shop, because it's just more complicated than a traditional quick release wheel. For that, you have the dealers… many of which may only service bikes that they sold. So again, the local dealer thing is a big consideration for value. There's a lot more that could be done with this bike to be on-par with some of the other value options listed above in terms of hardware, but none of them offer this many colors or outlets for assembly and service. Click the image or title below to visit the full review with more details, or add it to your compare list by clicking the box below.
---
One of the most affordable name brand electric bikes on the market right now, priced to compete with online ebikes but offers dealer assembly, fitting, post-purchase support, and comes in two frame styles and seven color options! The step-thru is a small-medium with 26" tires and the high-step is a medium-large with 27.5" tires.. Two gender neutral color options for the step-thru presumably for guys who aren't as tall…...
Each product covered on ElectricBikeReview.com includes a full list of specs that we measure by hand, an extensive album of photographs, and a detailed video with ride footage. You can compare any of our reviews side by side using the "Add to Compare List" checkbox. We're doing our best here to serve the community, covering hundreds of electric bikes each year! For more help, visit our independent electric bike forums and share your height, weight, budget, intended use, and other details, so our moderators and members can give you some personalized feedback.
If you're completely new to electric bicycles, check out my introduction video, which explains why I started EBR back in 2012. I've also posted an informal interview with my uncle Greg, who has been riding a full suspension electric mountain bike to work in Colorado, rain or shine, for several years! EBR makes money by listing shops on our directory map, charging for a limited number of promoted bike slots that will get more visibility, and getting paid by YouTube for ads that play before and after our videos. We believe in transparency, and appreciate your visit here! Good luck, ride safe, and thanks for visiting :)