Best Commuter Electric Bikes of 2022
Here are our top picks for the best Commuter electric bikes of 2022. Our top five Commuter ebikes represent the best combination of features and value right now, but you can see all 360 of our detailed commuter ebike reviews listed by date here. Reviewing electric bikes is what we do and EBR has the industry's most complete and objective reviews. Since 2012, we've helped millions of people find and choose the best ebike for their needs and budget. Let's go!
Table of Contents:
Things to Consider:
Weather. Your commute schedule is fixed, but weather is constantly changing. The solutions are fenders and a chain cover to keep you clean and dry, and lights to help you see in the dark early mornings and late evenings as seasons change. Integrated lights are best, because they're permanently fixed to the bike frame, and they run off of the main ebike battery, so they won't be left on accidentally and won't run out at random times based on small independent cells.
Safety. The path to and from work may include hazardous traffic zones. The solutions are reflective surfaces and lights that are visible from all angles. Reflective gear and a helmet with integrated lights can further enhance your visual footprint. Responsive drive systems that get-up-and-go the instant you need them to cross a street or faster Class 3 capability to keep up with traffic and command respect.
Durability. Commuter ebikes get a lot of use in varied conditions, which increases wear on parts. In this instance, it makes sense to pay to get a dependable motor, battery, and drivetrain from a company with great support. Puncture resistant tires, and sturdier hardware (spokes, stem, rear rack) are also important considerations.
Comfort. Frequent use and bumpy terrain will challenge the electric bike and your body. Solutions include higher volume tires, an adjustable suspension fork, a suspension seatpost or rear suspension, and quality touch points (locking ergonomic grips, adjustable angle or upright stems, wide sturdy platform pedals).
Cargo. Backpacks are uncomfortable and create a sweaty back. An alternative is adding a sturdy rear rack that's compatible with trunk bags and panniers. It's nice if it has pannier blockers along the sides, and a bungee loop at the bottom. Rear racks shouldn't block the saddle if you lower it all the way. Options upfront include mounting points on the fork or head tube to add pannier hangers or a tray rack or basket.
Best Value Commuter Electric Bike for 2022

If you would like to spend a bit less, but not sacrifice too much in terms of quality and performance, I think the DŌST Kope is an outstanding choice for commuting. It delivers adjustable top speed with up to 28mph, an optional second battery pack to double range, has a trigger throttle, and uses a mid-drive motor system with physical shift detection to protect the 9-speed drivetrain. I love the sturdy aluminum alloy fenders, minimalist chain cover, and overbuilt rear rack with protected rear light. Both front and rear lights run off of the rechargeable battery pack, and the tires have reflective sidewalls for improved safety. All of the utilitarian extras add weight, so it's great to see 180mm hydraulic disc brakes with motor inhibitors. The puncture resistant tires are nice, and both wheels offer quick release since this is a mid-drive setup! Great weight distribution, large color LCD with USB charging port for accessories, and plenty of comfort from the hybrid saddle, ergonomic grips, adjustable angle stem, and adjustable spring suspension fork. It's a unique product that checks a lot of boxes, and is ready for day, night, rain, or shine from day one. Trade-offs include cadence sensing pedal assist vs. the multi-sensor that many European mid-drives now offer, and only having a single frame size and color option. Click the image or title below to visit the full review with more details, or add it to your compare list by clicking the box below.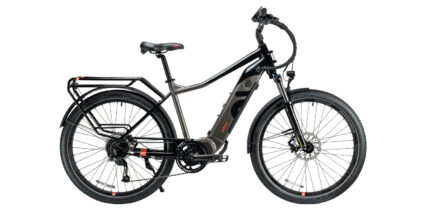 ---
A sturdy, highly-functional, high-step hybrid electric bike with upgraded components and optional second battery pack. Adjustable angle stem improves fit, 100mm spring suspension fork offers compression lockout and preload, high quality 2.4" wide Schwalbe Super Moto-X tires offer stability, visible reflective sidewalls, and puncture protection lining built-in. Lots of great accessory options including bags, cup holders, suspension seat post, mirrors, and child seat. Powerful 750 watt Bafang BBS02 mid-drive motor blends into the purpose-built frame, alloy housing keeps…...
Best Affordable Commuter Electric Bike for 2022

If price point is your primary driver, but you still want a product that offers quality and reliability, the Rad Power Bikes RadCity is still an excellent choice… even though the price has increased in recent years, I would still consider this to be affordable given the included fenders, lights, and rear rack! It even includes a suspension fork and has upgraded to hydraulic disc brakes vs. mechanical in the past. Regular commuting means increased wear and tear on products, and use during inclement weather (rain, snow, etc.) that can lead to creaking, rust, and misaligned drivetrains. For all of these reasons, my affordable pick is not the cheapest commuting product, but one that I've seen excelling in the space for many years… In fact, my first review of the RadCity Step-Thru was way back in 2017! This is a company that still offers parts and batteries for some of their earliest products, and I love to see that. Despite being affordably priced, these are not "throwaway" electric bikes like we've seen from some big box retailers and online stores… brands that appear and then disappear before any warranty claims can be handled. Rad continues to use cross-compatible battery packs that can be shared or loaned between family members. I appreciate that it offer a trigger throttle vs. pedal assist only, and that it is also sold in a high-step version if you prefer that style and increased frame stiffness. Click the image or title below to visit the full review with more details, or add it to your compare list by clicking the box below.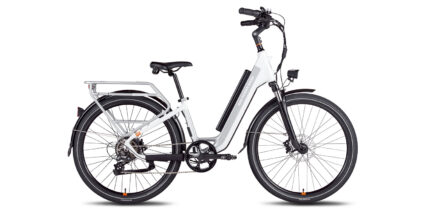 ---
An approachable step-thru version of the proven RadCity hybrid electric bike featuring frame, wheel, brake, and battery upgrades for its 5th generation. Available in black or white color schemes, the step-thru offers lower standover and minimum saddle height, but introduces some frame flex. Adjustable angle stem, ergonomic grips, hybrid tires, and locking suspension fork provide fit and comfort. The rear rack is now removable, and positioned so the saddle won't collide in low positions.. A growing fleet of mobile service vans and storefronts in the US, Canada, and Europe…...
Honorable Mention Commuter Electric Bike for 2022

In many ways, the Riese & Müller Delite or dual battery Superdelite could be our Premium pick for best commuter ebike of 2022. However, the extremely high price point and slower build-to-order process (which can result in 1-3 month delays for North American customers) puts it out of reach for many of us. With that said, this ebike offers the best comfort of any of our recommendations. I personally suffer from back, neck, and shoulder pain from some ski accidents and a car accident that took place when I was a young boy. The prospect of commuting by electric bicycle is made much easier for my sensitive knees with the help of a motor, but if my back, neck, shoulders, and wrists are bounced around too much, the fun really starts to go, and I begin thinking about automobiles or the bus again. This is where a full suspension ebike really shines… it's almost like a moped or motorcycle in terms of weight and feel. It offers some back and neck comfort (just like ebikes with a suspension fork and seatpost do), while also offering knee and cargo comfort, because it has a suspended rear rack! This particular bike, the Delite, can be setup with a chain and derailleur or the belt drive and internally geared hub featured in this particular review. All of the parts are premium, including hydraulic disc brakes, super bright lights with brake-light activation, and the trusted Bosch motor system (available in 20mph Class 2 or 28mph Class 3 configuration) and hidden Bosch PowerTube Battery. If money is no object, you're patient about delivery, and you don't mind a bit of extra weight, this is definitely an electric bike you should check out! Click the image or title below to visit the full review with more details, or add it to your compare list by clicking the box below.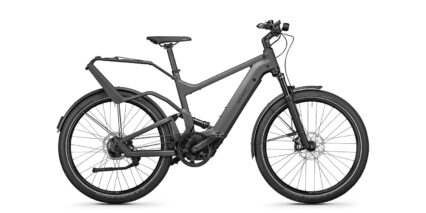 ---
Top of the line full suspension electric bike with sturdy suspended rear rack that will be gentle on a child-seat passenger or your cargo in a trunk bag and panniers. Custom hydroformed aluminum alloy frame positions the motor and battery weight low and center for excellent balance. Two color options and three frame sizes with adjustable stem provides excellent fit. Premium 65mm plastic fenders are durable and mounted with additional support arms to stay put…...
Each product covered on ElectricBikeReview.com includes a full list of specs that we measure by hand, an extensive album of photographs, and a detailed video with ride footage. You can compare any of our reviews side by side using the "Add to Compare List" checkbox. We're doing our best here to serve the community, covering hundreds of electric bikes each year! For more help, visit our independent electric bike forums and share your height, weight, budget, intended use, and other details, so our moderators and members can give you some personalized feedback.
If you're completely new to electric bicycles, check out my introduction video, which explains why I started EBR back in 2012. I've also posted an informal interview with my uncle Greg, who has been riding a full suspension electric mountain bike to work in Colorado, rain or shine, for several years! EBR makes money by listing shops on our directory map, charging for a limited number of promoted bike slots that will get more visibility, and getting paid by YouTube for ads that play before and after our videos. We believe in transparency, and appreciate your visit here! Good luck, ride safe, and thanks for visiting :)