Best Full Suspension Electric Bikes
Here is our listing of the top five full suspension electric bikes. We've done the research to identify the best combinations of features and value on the market today. Beyond these recommendations, you can see all 352 of our detailed reviews of rull suspension ebikes listed here. Reviewing electric bikes is our specialty, and EBR has the most holistic and unbiased reviews in the industry. Since 2012, we've helped millions of people find the best ebike for their needs and budget. Let's dig in!
Table of Contents:
Things to Consider:
Design Integration. Full suspension electric bikes need to be evaluated on the basis of the total design and integration of all the ebike's systems, not just the inclusion of front and rear shocks. If the foundation isn't right, you'll just be wasting your money on additional weight. These versatile designs provide handling, climbing, and descending capabilities in addition to safety and comfort. Don't let yourself get blinded by any one spec, these are integrated systems where all of the key components need to be balanced to work in harmony.
Frame Geometry and Weight. The Frame is the foundation of the system. Look for a fame style that suits your body and intended type of riding… test rides are especially important for suspension bikes. Check for fit and system interactions while riding it "your way". Less weight makes the ebike more responsive and reduces the demands on motor and battery but comes at a hefty price premium. High quality suspension systems offer adjustability, air is the lightest and most tunable (compared to coil spring) but is a bit less reliable and consistent for heavy duty applications. This is why hard-core downhill rear suspension often uses a coil-over design.
Motor and Sensors. The motor is the heart of system, consider both power and torque. Torque is important because most high-end FS designs utilize mid-drive motors, which gain a mechanical advantage as the drivetrain switches gears… both you and the motor gain this advantage. Check to see what sensors are used to let you interact with the drive system. Cadence sensors are on/off, torque sensors require force to be applied, advanced sensors use both signals and also measure rear wheel speed to determine when to contribute. The fanciest sensors will make the ebike feel like and extension of your body's movements. They won't start and stop as abruptly… but they require more active pedaling. In our video reviews, we also test and show how well the motor and shifting perform under everyday conditions. These are the things that will make the bike a joy to ride vs. a machine to operate.
Battery. More power always sounds better, but on these ebikes the battery capacity should be carefully balanced with the needs of the motor and overall weight of the bike. Achieving balance is the key. As the saying goes… "Pick two: low price, low weight, or high performance".
Components. The demands placed on full suspension electric bikes can be punishing. Investing more for higher quality components, especially the drive train and brakes, will result in fewer on-trail breakdowns and increased rider safety.
Intended Use. The default assumption is that a full suspension ebike will be used primarily for ascending and descending rugged off-road trails. However, just as many people who never venture off-road drive SUV's. Some people prefer full suspension electric bikes simply because of the stability and comfort they offer. If you can afford the price, full suspension ebikes provide very stable all-around riding. And these days, many models electric models are designed for city use because ebikers tend to ride further and at higher average speeds. There are even full suspension road bikes now! This is appealing to those who ride regularly, for long distances, and have back problems or special needs. I personally only buy full suspension bicycles now, after years of hardtail riding. If your intended use is mostly on road or packed gravel and dirt, you can save money by de-emphasizing off-road features like dropper seat-posts, super wide gearing, and motor power. Instead, place more emphasis on frame geometry being upright, having fenders, rack options, and integrated lights.
Best Value Full Suspension Electric Bike for 2022

If you would like to spend a bit less, but not sacrifice too much in terms of quality and performance, I think the BULLS COPPERHEAD EVO AM 3 is an excellent choice. Rather than go with the ultralight motor and battery setup as Specialized has done, BULLS opted for a high capacity battery and super high-torque motor from Brose. Yes, it weighs a whopping 17.7lbs more than the Turbo Levo SL Expert, and it isn't available at nearly as many dealers… but it it still comes in five frame sizes and looks great. It's not a fair apples-to-apples comparison between these two top bikes, because they are offering a completely different experience. The COPPERHEAD EVO AM 3 has a battery pack that's 2x the Specialized and a motor with 2x the torque. I love the Bosch Performance Line CX motor and am especially excited about their new Extended Boost mode (that carries motor support through half-pedal strokes to make climbing easier. The new software update (that is free for all CX, Cargo, and Speed motors from Bosch), increases motor torque significantly, and is a great example of how mainstream drive systems continue to get better and may be more stable and reliable than an in-house custom build. Bosch has earned my trust over the past 10 years of ebike involvement, while Specialized has switched motor manufacturers several times… always doing their own custom build, but not always supporting it for as long. Another thing that I love about the COPPERHEAD EVO AM 3, and many of the other BULLS eMTB products, is that it comes with wired-in light mounting points front and rear (Monkey Link compatible), and a magnetic water bottle mount mid-frame. This ebike is a beast, with premium suspension and an excellent drivetrain. It's on par with other higher powered full suspension electric mountain bikes using Yamaha, Shimano, and Brose drive systems. It's my favorite value winner this year because I trust the components and the company. My in-person experience working with the BULLS North America leadership team has been excellent. This is a German brand that is sold globally, but I mostly focus on the US and Canada here, so I've really got to hand it to their people. They have always made time to answer questions and are more inviting and down to Earth than some of the other brands. Perhaps I'm a bit of an outsider, focusing mostly on e-mountain while the hard core folks are coming from acoustic non-electric products. To me, this bike was balanced, reliable, and offered extras like shift detection from Bosch, which can reduce drivetrain wear significantly. Bosch has some of the best sensors, displays, and smartphone apps around. So again, it's a beautiful union of bike and electric that I recommend without hesitation. Click the image or title below to visit the full review with more details, or add it to your compare list by clicking the box below.
---
An all-mountain style electric bike with longer travel 150mm air suspension from Fox with thicker stanchions and preload + rebound tuning, internal Powertube 625 battery looks great and offers 25% more range, perfect charge port and locking core position on upper right side of frame. Mid-sized 2.8" plus sized tires provide increased traction, reduced deflection, and improved comfort but are…...
Best Affordable Full Suspension Electric Bike for 2022

If price point is your primary driver, but you still want a product that offers balanced performance, the VoltBike Enduro is an excellent choice. Let's be honest here, this is technically a full suspension electric mountain bike… but it's not at all in the same league as the other two models listed above. Not by a long shot! Yes, it has two suspension points, but they aren't nearly as durable or performant… meaning the travel won't be as smooth, as far, or as adjustable. The suspension fork is a coil spring design that's heavier, uses narrower stanchions that aren't as strong, and it cannot be precisely sagged to rider body weight. The battery pack is positioned well at the middle of the frame, but it's externally mounted and may rattle over time. The frame doesn't have bottle cage bosses, probably due to the battery pack position and style. This is an electric mountain bike with a kickstand and basic integrated lights! I guess it's nice to have them, but they could rattle a lot off-road, and most competing eMTB's just don't include these accessories for "real" riding… The mid-drive motor isn't as responsive or smooth as the big name competitors… but it's not that bad. It does offer a mix of cadence and torque sensing vs. all cadence (which feels more like on/off vs. dynamic). Simply having mid-motor sets it apart from other price-driven full suspension electric bicycles. VoltBike sells another FS eMTB called the Outback that does use a hub motor, and this increases unsprung weight in the rear (slowing movement and changing handling, making it less responsive), but it also has a trigger throttle. When you introduce a throttle, the ebike becomes Class 2, which is not allowed on as many trails and may be frowned upon by fellow riders. For this reason, the VoltBike Enduro does not have a throttle and is a Class 1. It's the higher-end product between the two full suspension offerings from Voltbike. For some people, this electric bike will be perfect. It's priced extremely low, is comfortable to ride on gravel trails and light off-road sections, and comes with upgraded 180mm hydraulic disc brakes and wider 27.5 x 2.3″ tires that offer stability and traction. I actually really like the bike, and it's similar in weight to the BULLS COPPERHEAD value winner, but the battery capacity and motor power are much lower (along with less suspension travel). I do recommend this product, but I've been especially critical here because in my opinion, this is not a true electric mountain bike that can take the abuse of the others. Click the image or title below to visit the full review with more details, or add it to your compare list by clicking the box below.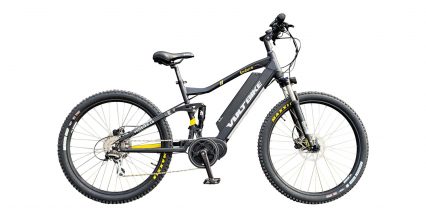 ---
A value priced mountain bike at $1,999 ($2,499 in Canada) with a mid-drive system, full suspension, integrated headlight, and hydraulic brakes. The 350 watt Bafang mid-drive is capable, smooth, and quiet, pedal assist, Class 1 means…...
Best Class 3 Full Suspension Electric Bike for 2022

If you're looking for a high speed Class 3 electric bike that offers comfort and control through full suspension… the BULLS ICONIC EVO TR 1 SPEED is one of the best options around. Very few of the big name ebike mid-drive makers even offer speed pedelec drive systems, Bosch really shines here. Their Performance Line Speed motor delivers amazing torque (75 newton meters originally, now 85Nm with a software update). It's just as dynamic and responsive as the standard Performance Line and CX drive systems, it just goes faster! Getting to see this motor paired with a premium frame from BULLS, another German company, available in four frame sizes, featuring with the highest capacity Bosch Powerpack 625 battery is incredible! And yes, the price tag is not cheap… but this thing really performs. You're getting reliability, a beautiful aesthetic, a second-generation product from BULLS (as they have launched other ICONIC SPEED models in the past), integrated lights, sturdy aluminum alloy fenders, and a sleek removable rear rack. Note that the rear rack is sprung vs. the unsprung design offered by the Riese & Müller delight below… and that ebike is also offered with a Bosch Performance Line Speed motor as well. The big difference is in the $3.5k+ price difference, added weight of the R&M frame design, and swing arm suspension there vs. four-bar here. Both suspension shocks are air here, so you can sag the bike to suit your body weight or body + cargo weight. Other highlights include an upgraded Bosch Kiox color display that offers USB charging, removability (which locks the bike), and smartphone + GPS + heart rate monitor compatibility! Again, many of these features will also be available for the R&M Delight, since it also uses Bosch systems. In Fall 2020, Bosch is launching an updated Nyon display for Europe and North America, with a larger touch screen and fancier GPS navigation, it's a part that can be added as a retrofit upgrade and could make the BULLS ICONIC EVO TR 1 SPEED even better for high speed commuters. As someone with a sensitive back, neck, arms etc. I absolutely love that this bike exists and that they designed it with more of an upright body position. The handlebar is mounted to an adjustable angle stem on top of a bit stack of spacers. Pulling from their mountain bike designs, the ICONIC EVO also comes with a seat post dropper with a bit of suspension! This makes mounting the bike easier and adds a second layer of suspension to reduce road vibration and hard impacts that street cracks, sidewalks, and gravel can produce at high speed. Click the image or title below to visit the full review with more details, or add it to your compare list by clicking the box below.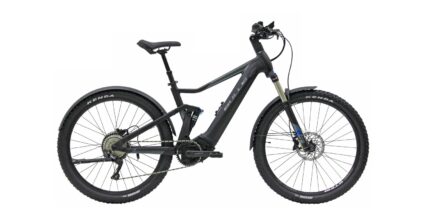 ---
A unique full suspension cross country commuter electric bike designed for comfort and speed, Class 3 rated 28mph performance reduces commute times, high volume Schwalbe tires offer comfort and stability in a variety of terrains, wider Boost hub spacing and thru axles provides strength for true off-road capability. Available in four frame sizes with an adjustable angle stem for optimal fit and body…...
Promoted Full Suspension Electric Bike for 2022

At the moment, nobody is paying us to promote their full suspension electric bike here on EBR. It's worth noting that this is an invitation-only service. That means, we only invite companies that have a great value proposition and with whom we've worked for many years. We review each bike before we extended the offer to advertise, and we just haven't found the right fit yet ;)
Honorable Mention Full Suspension Electric Bike for 2022

In many ways, the Riese & Müller Delite or dual battery Superdelite could be our Premium pick for best full suspension ebike of 2022. However, the extremely high price point and slower build-to-order process (which can result in 1-3 month delays for North American customers), put it out of reach for many of us. Furthermore, this is a decidedly on-road build, or light off-road if you swap the tires. Riese & Müller products tend to be heavier and the one-piece swing arm rear suspension just isn't as dynamic and responsive as the other high-end FS models we've listed. With that said, this ebike offers great comfort and the most utility for a commuter. I personally suffer from back, neck, and shoulder pain from some ski accidents and a car accident that took place when I was a young boy. The prospect of commuting by electric bicycle is made much easier for my sensitive knees with the help of a motor. However, if my back, neck, shoulders, and wrists are bounced around too much, the fun really starts to go, and I begin thinking about automobiles or the bus again. This is where a full suspension ebike really shines… The Delite is almost like a moped or motorcycle in terms of weight and feel. It offers some back and neck comfort (just like ebikes with a suspension fork and seatpost do), while also offering knee and cargo comfort, because it has that suspended rear end and rack! This particular bike, the Delite, can be setup with a chain and derailleur or the belt drive and internally geared hub featured in this particular review. All of the parts are premium, including hydraulic disc brakes, super bright lights with brake-light activation, and the trusted Bosch motor system (available in 20mph Class 2 or 28mph Class 3 configuration) and hidden Bosch PowerTube Battery. If money is no object, you're mostly riding in-town, you're patient about delivery, and you don't mind a bit of extra weight, this is definitely an electric bike you should check out! I've covered several iterations of it over the years, including the Delite Mountain, but this is the most recent review. Click the image or title below to visit the full review with more details, or add it to your compare list by clicking the box below.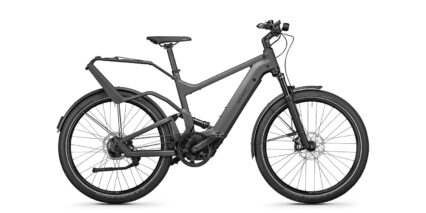 ---
Top of the line full suspension electric bike with sturdy suspended rear rack that will be gentle on a child-seat passenger or your cargo in a trunk bag and panniers. Custom hydroformed aluminum alloy frame positions the motor and battery weight low and center for excellent balance. Two color options and three frame sizes with adjustable stem provides excellent fit. Premium 65mm plastic fenders are durable and mounted with additional support arms to stay put…...
Each product covered on ElectricBikeReview.com includes a full list of specs that we measure by hand, an extensive album of photographs, and a detailed video with ride footage. You can compare any of our reviews side by side using the "Add to Compare List" checkbox. We're doing our best here to serve the community, covering hundreds of electric bikes each year! For more help, visit our independent electric bike forums and share your height, weight, budget, intended use, and other details, so our moderators and members can give you some personalized feedback.
If you're completely new to electric bicycles, check out my introduction video, which explains why I started EBR back in 2012. I've also posted an informal interview with my uncle Greg, who has been riding a full suspension electric mountain bike to work in Colorado, rain or shine, for several years! EBR makes money by listing shops on our directory map, charging for a limited number of promoted bike slots that will get more visibility, and getting paid by YouTube for ads that play before and after our videos. We believe in transparency, and appreciate your visit here! Good luck, ride safe, and thanks for visiting :)