Best Cruiser Electric Bikes of 2022
We've done the research to identify the top five Electric Cruiser Bikes of 2022. These recommendations provide the best combination of features and value on the market today, but you can see all 161 of our detailed electric cruiser bike reviews listed here. Reviewing electric bikes is our specialty, and EBR has the most wide-ranging and impartial reviews in the industry. Since 2012, we've helped millions of people discover the best ebike for their needs and budget. Let's dive in!
Table of Contents:
Electric Cruiser Bikes Offer:
Comfort. These bikes are designed for comfort, frequently offering step-thru frames and forward pedal positions designed for full leg extension to reduce strain on your knees, hips, and ankles. Large seats, upright, relaxed handlebars, and longer frames engineered to keep your body properly aligned to prevent stress and soreness in your back, shoulders, and wrists. Upright riding with a wide view of the road and surroundings makes cruising a joy.
Style and Fun. Electric beach cruiser bikes have a distinct vintage style. Curvy swooping frames vs. hard angles, extra long handlebars, and paint matched fenders and chain covers are all hallmarks of this category. They're designed to be easy to operate with large shifting mechanisms, twist throttles, and large LCD displays.
Economy. Electric Cruiser bikes are some of the most affordable ebikes since they generally use entry level components and few to no gears. One downside is that the larger frames and simpler parts tend to be heavy. Cruiser bikes are built for fun rides in nice weather, so they may have a rack or front basket to carry things.
Things to Consider:
Intended Use. Electric cruiser bikes are great for fun, short rides in nice weather, however, there are other categories of ebikes that offer improved performance, durability, or value that are worth considering. For off-road or light trail riding, mountain and fat tire models are a great choice. If you plan to ride more frequently and need lights, fenders, and more durable parts, consider commuter ebikes. If you aren't locked into a cruiser style bike, but still but want to save money and get something simple, consider our list of affordable ebikes. Finally, if you have limited space or need to carry your bike up stairs, you could consider a folding electric bike
Total Cost. Remember to consider the costs of accessories and assembly if you buy direct. Add-ons can be expensive… so focus on total cost. A fully equipped already assembled ebike might be cheaper. For assembly, paying the professionals at a local bike shop can save time and money vs. the tools and mistakes of DIY.
Frame Style. Our list of in-depth reviews below showcases many high-step cruisers, but some of these companies also sell step-thru versions… We point it out in the short descriptions and on the full review pages under "frame types". Furthermore, we've created a dedicated shortlist of winning step-thru cruisers here that you can explore for more ideas.
Best Value Cruiser Electric Bike for 2022

If you're interested in saving some money but still want a powerful, approachable, and comfortable cruiser that doesn't make too many compromises, I highly recommend the DŌST Drop. To be fair, this thing isn't styled like a typical cruiser… but it does offer the same approachability and comfort, thanks to its adjustable angle stem, plush saddle, high volume tires, and adjustable suspension fork. Their optional second battery pack can double your range, which could be critical if you weigh a bit more, or tend to rely on the throttle frequently. It's a feature that is very rare, and executed well here by DŌST. They keep motor and battery weight low and center on the frame, which improves balance, while reinforcing for stiffness with gusset plates at the steer tube and seat tube. The Drop uses a mid-drive motor from Bafang called the BBS02 that is extremely powerful and widely recognized for being reliable (having been around since 2013), but it's also open to throttle input vs. pedal assist only. In order to make the bike reliable, given the powerful mid-drive motor, DŌST uses a physical shift sensor on their bikes that protects the chain and gears. They are one of the few companies that offer adjustable top-speed, which includes lowering to 10mph for improved range and safety or raising to 28mph. I love the attention to detail on this bike and all of its branded accessories. DŌST sells online, through shops, and even delivers in some regions. You can even visit their headquarters near Vancouver Canada, or chat with a sales person using a virtual conference system… which is pretty unique and fun. Other highlights include the hydraulic disc brakes with large 180mm rotors, tubular aluminum alloy fenders and chain cover, puncture resistant reflective tires, bright integrated lights, and and a sturdy rear rack. Trade-offs included heavier overall weight due to all of the included accessories, cadence sensing pedal assist vs. multi-sensor that can be a little smoother, and only having a single frame size and color available. Click the image or title below to visit the full review with more details, or add it to your compare list by clicking the box below.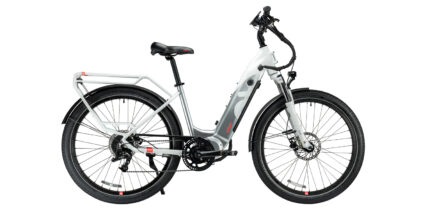 ---
An approachable step-thru electric bike with upgraded components and optional second battery pack. Adjustable angle stem improves fit, 100mm spring suspension fork offers compression lockout and preload, high quality 2.4" wide Schwalbe Super Moto-X tires offer stability, visible reflective sidewalls, and puncture protection lining built-in. Lots of great accessory options including bags, cup holders, suspension seat post, mirrors, and child seat. Powerful 750 watt Bafang BBS02 mid-drive motor blends into the purpose-built frame, alloy housing keeps…...
Best Affordable Cruiser Electric Bike for 2022

If you're looking for the most affordable, but still great, cruiser style electric bike. I highly recommend the Blix Sol Eclipse. While it only comes in one frame size and style (step-thru), they do offer four beautiful color choices. The bike is extremely elegant, approachable, and capable while remaining relatively light for a cruiser. You'll notice that it doesn't come stock with fenders, a chain cover, or a rear rack… which contributes to the lighter weight and lower price, but Blix actually sells paint-matched fenders, a paint matched rear rack, and many baskets and bags for people who want them and are willing to pay extra. The hub motor on the Sol Eclipse is capable, and the battery pack is actually above average in terms of capacity. They work together to offer a zippy feel and decent range, even if you're mostly using the throttle. The brakes are average with 160mm mechanical vs. hydraulic disc, but they still come with motor inhibiting brake levers for higher performance and safety. The bike relies on a cadence sensor, so it isn't ad dynamic or efficient as the fancy mid-drives. Battery placement is excellent, low and center on the frame, but not as hidden as some others. The bike now includes an integrated headlight and reflective tires for safety, and the tires are also puncture-resistant! These are areas where they improved year over year from the prior generation, which probably contributed to the small price increase. With a large plush saddle, long swept-back cruiser bars, adjustable angle stem, and vibration dampening steel fork, the bike offers a fairly comfortable ride. I like that they include a plastic chain guide to reduce chain drops and protect your clothing, have a thoughtfully positioned kickstand that won't cause pedal lock, and went with an intuitive twist-shifter vs. triggers. Click the image or title below to visit the full review with more details, or add it to your compare list by clicking the box below.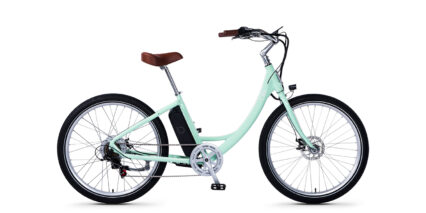 ---
A stylish approachable cruiser electric bike with excellent weight distribution and balance. Available in four beautiful colors, it comes with a large comfortable saddle, swept-back handlebar, ergonomic grips, and adjustable angle stem.. Great safety upgrades including puncture resistant tires that also have reflective sidewall stripes, an integrated…...
Honorable Mention Cruiser Electric Bike for 2022

Rounding out this list of best cruiser electric bikes is the Specialized Turbo Como SL 5.0. This thing offers "super light" weight, an efficient mid-drive motor, and completely hidden non-removable battery pack… with the option to extend range using external water bottle shaped battery packs. As a relatively sporty and light weight rider, I have fallen in love with the entire line of Specialized SL models, and it's nice to see the Como finally get this treatment. Note that Specialized does still offer the higher powered longer range standard Como model with Brose mid-drive. The Como SL 5.0 comes in three frame sizes, three colors, integrated front and rear lights, and includes a high-performance front rack system with removable plastic bucket. The rack is frame mounted, so it doesn't impact steering and won't spill as easily when the bike is parked and leaned to one side. The unique angled handlebar is a modern take on the swept-back cruiser design that offers similar comfort, but a shorter length that will fit through doorways more easily (or between cars and people if you ride through a crowded neighborhood). The minimalist chain cover is very functional, and the fenders are just incredible… seriously! Specialized makes some of the best fenders in the industry which extend farther down to protect your feet and shins. The flexible rubber design will bend out of the way if needed, but is mounted to a sturdy aluminum alloy main section so it's also very rigid and quiet. Note that the tires are puncture resistant, have reflective sidewalls, and the front wheel is attached using an extra sturdy thru-axle! Of course, you're also getting hydraulic disc brakes with adjustable reach levers here too. Specialized is sold through dealers and direct now, but I have found that they don't have as many physical stores as Trek. I've also noticed that some of their bikes sell out early, which might be a reflection of inventory more than pure popularity. Other considerations include the stylish but less utilitarian rear rack, lower overall power, non-removable in-frame battery pack that could be exposed to extreme temperatures if you are unable to bring the bike inside. The custom MAHLE motor is great in concept, but less proven that Bosch, Yamaha Shimano, or Brose, which have been around longer. Click the image or title below to visit the full review with more details, or add it to your compare list by clicking the box below.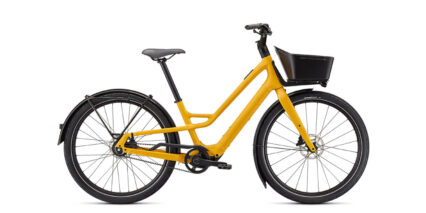 ---
One of the sportiest cruisers I've ever reviewed. Relatively light weight at 47.2lbs including integrated lights, a pannier-only rear rack, and custom designed tubular alloy fenders with extra long rubberized flaps to keep your feet dry. Class 3 speed-pedelec performance offers 28mph (45km/h), which is very unique for a cruiser! Available in three frame sizes and three colors.. Boost hub spacing on the front wheel provides sturdier spoke bracing angle, 12mm thru-axles provide…...
Each product covered on ElectricBikeReview.com includes a full list of specs that we measure by hand, an extensive album of photographs, and a detailed video with ride footage. You can compare any of our reviews side by side using the "Add to Compare List" checkbox. We're doing our best here to serve the community, covering hundreds of electric bikes each year! For more help, visit our independent electric bike forums and share your height, weight, budget, intended use, and other details, so our moderators and members can give you some personalized feedback.
If you're completely new to electric bicycles, check out my introduction video, which explains why I started EBR back in 2012. I've also posted an informal interview with my uncle Greg, who has been riding a full suspension electric mountain bike to work in Colorado, rain or shine, for several years! EBR makes money by listing shops on our directory map, charging for a limited number of promoted bike slots that will get more visibility, and getting paid by YouTube for ads that play before and after our videos. We believe in transparency, and appreciate your visit here! Good luck, ride safe, and thanks for visiting :)