Best Hardtail Electric Mountain Bikes
The top five hardtail electric mountain bikes represent the best combinations of features and value on the market today. We did the research to highlight the best, but you can see all 42 of our complete reviews of hardtail electric bikes listed here. Evaluating electric bikes is our specialty, and EBR has the most complete and unbiased reviews in the industry. Since 2012, we've helped millions of people discover the best ebikes for their needs and budget. Let's go!
Table of Contents:
Things to Consider:
Motor and Sensors. The most efficient and powerful hardtail electric bikes use mid-drive motors which benefit from the drivetrain gears to maximize energy use. Torque can be more important than power ratings, so don't let a 250 watt rating spook you if it's offering 60+ Newton meters of torque. Compare the sensors used to activate the motor. Simple pedal assist vs. torque sensors or an advanced combination of both. Power should be applied rapidly, on-demand when you need it. The sensors should make the hardtail eMTB feel like a smooth extension of your body's movements with no jerks on starts. These factors can greatly enhance your riding enjoyment.
Intended Use. Hardtail electric bikes are designed for reasonable off-road use, but many people prefer them as everyday riders for the comfort they provide, especially those with back problems. Many hardtail mountain bikes have mounting points for adding a rear rack, so you could commute during the week and hit the trails on the weekend!
Components. The demands of riding hardtail electric mountain bikes off-road can be punishing. Investing in higher quality drive train and brake components will result in fewer on-trail breakdowns and longer life. Battery capacity should be balanced between the needs of the motor, weight, and your riding style. Riders with varied needs often prefer heavier, higher capacity batteries for greater distance while cross country riders often prefer lightweight designs.
Features vs. Budget: Off-Road Usage. If you plan on harder use and more difficult riding, focus on hardtail ebikes with better components including hydraulic brakes, air suspension fork vs. coil spring, and mid-drive motors from Bosch, Brose, Shimano, and Yamaha to get better performance, durability, and support.
Features vs. Budget: Versatile Usage. Less demanding users can save money by skipping "hardened" off-road components and mid-drive motors. Instead, putting more emphasis on ergonomic touch points and upright body position, fenders, racks, and lights. Adding a suspension seat post is a great way to further enhance comfort. This creates a full suspension feel on a budget, but only protects your back and neck vs. your ankles, knees, and hips.
Best Value Hardtail Electric Mountain Bikes for 2022

Not everyone has $4k to spend on a hardtail electric mountain bike, but there are plenty of options that still offer great value for less. The Surface 604 Shred only costs $2k, but still comes with a torque sensor for more responsive riding. This is important if you plan to go off-road on technical terrain. Unlike the more premium hardtail models, this one uses a planetary geared hub motor. It positions weight further back vs. a mid-drive, and it doesn't leverage the cassette of gears, but the unsprung weight isn't an issue because the bike only has a suspension fork and no rear suspension. The rear portion of the frame does have rack bosses, so the bike can do double duty as a weekly commuter platform or grocery getter. The company sells an optional rear rack that fits perfectly, a seatpost suspension that helps improve back, shoulder, and neck discomfort when riding on bumpy terrain, and they sell through dealers and direct online. Amazingly, the Shred comes in two frame sizes, and they designed the frame with a steep top tube to make it easier to mount and stand-over on uneven surfaces. To top it all off, the bike has a decent 9-speed drivetrain with SRAM components and large hydraulic disc brakes with motor cutoff switch for safety. Unlike some of the more premium mid-drive models, the Shred also has a trigger throttle, making it a Class 2 ebike. This limits the number of trails where it's allowed, but is great for people who want help getting started or simply enjoy zipping around without pedaling. The spring fork adds weight and the battery isn't as nicely integrated as some others, but the bike is actually pretty balanced front to rear and most of the weight is low on the frame. It's my top value pick because it performs well and doesn't skip on the important components… it even comes with an integrated headlight, for added safety and off-road use at dawn and dusk. Click the image or title below to visit the full review with more details, or add it to your compare list by clicking the box below.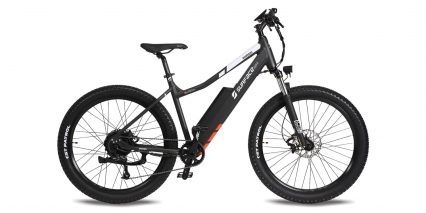 ---
A value-priced hardtail cross country style electric mountain bike with 9-speed SRAM 11-34 tooth cassette, plus sized tires, higher top speed of 28 mph, super-responsive torque + cadence sensing bottom bracket, quiet motor, and trigger throttle that overrides assist for full power. Available in two frame sizes for improved fit and comfort, optional 14 amp hour battery…...
Best Affordable Hardtail Electric Mountain Bikes for 2022

Alright, my favorite affordable hardtail pick right now is the Magnum Mi6, which is very similar to the Surface 604 Shred… but uses a cadence sensor vs. torque sensor. This means that it won't respond as naturally or quickly as a cadence sensor, but also doesn't require sustained pedal pressure to keep going. Since it's also a Class 2 product, having a trigger throttle, you can simply throttle up to speed and then cycle the pedals gently to keep the motor going. The Mi6 offers more gears than any of the other eMTB products on this list, which makes it easier to pedal in a wide range of conditions. It also means more weight and more expensive tuneups! For me, this is a mixed point… because many people enjoy the option, especially if they want to pedal without assist or are concerned about running out of battery before a long trip is complete. That shouldn't be a big concern here however, because the high capacity 624 watt hour battery pack provides great range. Note that Magnum has externalized the motor controller on the downtube so it can cool more efficiently. They've designed the system to provide great torque and peppy ride feel and outfitted the wheels with big knobby tires that eat up soft off-road terrain. Downsides include mechanical disc brakes vs. hydraulic, which stretch and gum up over time… requiring more hand effort to actuate (especially the rear brake), and a heavier coil spring suspension that isn't as plush or adjustable as air. Standard 9mm axles get the job done but aren't super stiff. The frame does have bottle cage bosses on the top tube, which is imperfect because it limits standover height. It also has a kickstand, but it's mounted in the middle of the frame, creating the potential for pedal lock when backing up if deployed. Finally, it only comes in one frame size option. Thankfully, it does come with a rear rack mounting point for transporting cargo. It's another blended hardtail, emphasizing value and utility… but maintaining an excellent low price. Magnum also has a large dealer network in North America, which makes test rides and tuneups a lot easier. They're a great brand, and while I've highlighted a lot of "cons" on this summary, these are trade-offs that most value priced ebikes make to stay affordable. Click the image or title below to visit the full review with more details, or add it to your compare list by clicking the box below.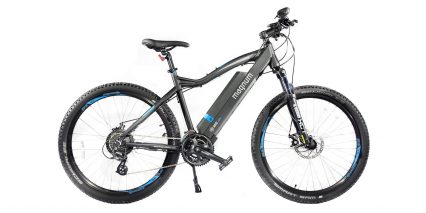 ---
A value priced hardtail electric bike that's trail-ready with a front suspension fork, knobby tires, and 21 gear combinations, available at a vast network of shops for great support and service. Features an upgraded 500 watt planetary geared hub motor paired with a high-capacity 48v 13ah…...
Promoted Hardtail Electric Mountain Bike for 2022

At the moment, nobody is paying us to promote their hardtail electric mountain bike here on EBR. It's worth noting that this is an invitation-only service. That means, we only invite companies that have a great value proposition and with whom we've worked for many years. We review each bike before we extended the offer to advertise, and we just haven't found the right fit yet ;)
Honorable Mention Hardtail Electric Mountain Bikes for 2022

Rounding out this list is the Moustache Samedi 27 Xroad 5, which wins my Honorable Mention award for best hardtail eMTB of 2022! Decidedly urban, the Xroad series is probably best suited to urban environments and paved streets but is still perfectly capable off-road. Small tight knobs allow the tires to grip packed earth and gravel. The adjustable coil spring suspension isn't as light as an air fork, but is extremely reliable. Notice the black anodized coating on the lightweight aluminum alloy stanchions that look great and slide more smoothly than steel. Did you also notice the adjustable suspension seatpost?! This ebike comes with custom tubular fenders that are sold enough to stay quiet off-road. Integrated lights are perfect for commuting or lighting the way on a dark path during an evening trail ride across a field or through a forrest. This ebike comes with premium hydraulic disc brakes, an 11-speed drivetrain, and upgrade Bosch Performance Line motor offering 65 newton meters of peak torque. Motor and battery weight are kept low and center on the frame, and the battery comes in 500 or 625 watt hours for extra-long trekking adventures. The Xroad is a "dual sport" type of ebike that comes feature complete to handle a wide range of adventures. Moustache even sells it in a full suspension build, still called the Xroad. For these reasons, it's one of my favorite hardtail electric mountain bikes, even if it's less mountain oriented and more all-around. It's a perfect example of why this category is so fun, but it does come at a high price. Note the frame lock, which is keyed alike to match the battery, and the durable chain cover that keeps pant legs clean and snag-free. Click the image or title below to visit the full review with more details, or add it to your compare list by clicking the box below.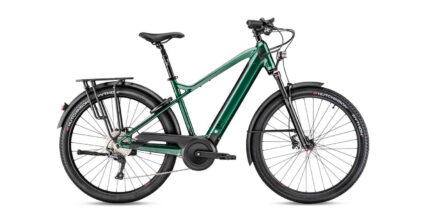 ---
A premium hardtail crossover electric bike that's capable on road, gravel, and light mountain trails. Reinforced triple cavity downtube, tubular aluminum alloy fenders, and strategically mounted lights hold up to bumpy conditions. Adjustable suspension fork and suspension seat post pair nicely with the swept-back "mustache" style handlebar. Battery and frame lock are keyed alike to reduce clutter and effort.. High attention to detail with custom black rims matching the hubs, spokes, and nipples. Bottle…...
Each product covered on ElectricBikeReview.com includes a full list of specs that we measure by hand, an extensive album of photographs, and a detailed video with ride footage. You can compare any of our reviews side by side using the "Add to Compare List" checkbox. We're doing our best here to serve the community, covering hundreds of electric bikes each year! For more help, visit our independent electric bike forums and share your height, weight, budget, intended use, and other details, so our moderators and members can give you some personalized feedback.
If you're completely new to electric bicycles, check out my introduction video, which explains why I started EBR back in 2012. I've also posted an informal interview with my uncle Greg, who has been riding a full suspension electric mountain bike to work in Colorado, rain or shine, for several years! EBR makes money by listing shops on our directory map, charging for a limited number of promoted bike slots that will get more visibility, and getting paid by YouTube for ads that play before and after our videos. We believe in transparency, and appreciate your visit here! Good luck, ride safe, and thanks for visiting :)