Electric Bike Company
Reviews
Launched in 2012, the Electric Bike Company was originally called Madiba Electric Bikes (that's Nelson Mandella's nickname) then updated to EBC around 2016. Their bikes tend to be feature-rich cruisers with powerful hub motors, higher 360 lb max weight ratings, and single speed gearing. They now own a 50% stake in their battery supplier company Turnlife and are doing unique things with their packs. Integrated chargers with retractable cords, fuses that emphasize safety and reliablity, higher quality parts from Panasonic, Samsung and LG, integrated lights to keep you safe. Shipping is usually $149 but they have a fully-assembled "ready to ride" option for $229, or you can visit their showroom in Orange County, California. The company offers a leading five year warranty and do ship internationally to some countries.
READ MORE
SHOW LESS
Sort by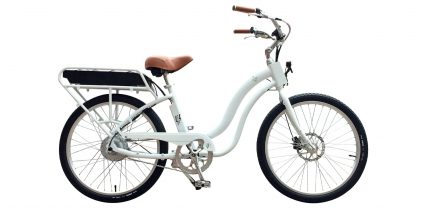 April 29, 2018
---
One of the most powerful cruiser style electric bikes on the market today, available in three classy colors, two frame styles (high-step and step-thru), but only one frame size with an adjustable stem. Single-speed drivetrain is simple, quiet, and durable, but makes starting from standstill difficult without using…...
April 30, 2017
---
An affordable, but powerful, cruiser style electric bike available in four colors or with custom graphics, impressive battery quality, and size, integrated lights and basket options. Comfortable upright body position supported by large tires, swept-back handlebar, vibration-dampening steel fork, plush saddle…...