Started in 2017, Bunch Bikes is based in Denton Texas and was started by Aaron Powell. He is a former band teacher who would commute to school 20 miles round trip each day to save money, pay down student loans, and stay fit. He visited Europe with his wife in 2016. They had one child already and then had a second around the time of this trip. He realized that he wanted to be able to ride with his entire family, including the young kids, while also getting groceries! He saw what was possible in Europe, felt inspired, but didn't see a lot of affordable options in the US, so he started a company to begin importing them.
He says that they want to help normalize these bikes because they improve quality of life. He visited the Copenhagen area, where these types of ebikes are very popular and accepted. Over there, 25% of families with two kids own a bike like this!
Read More
Show Less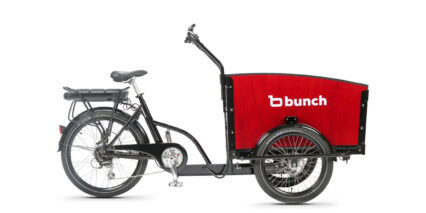 ---
A three-wheeled electric assist + throttle on demand box bike designed to transport up to four children! It includes two removable bench seats that double as storage cubbies, full-length steel fenders, a steel chain guard, reflective tires, and integrated front and rear lights for safety.. Powerful braking performance from three 160mm hydraulic disc brakes combined with smaller diameter wheels. The…...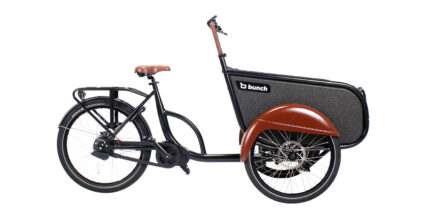 ---
A lightweight three-wheeled electric assist box bike designed to transport up to two children in the box and one child seat on the rear rack. It includes two removable seat belts, fenders to cover each wheel for finger protection and to stay dry, a premium plastic chain cover, puncture-resistant reflective tires, and bright integrated front and rear lights for safety.. The front of the box folds down to make loading easy and has two plastic…...