Launched in 2012, Motiv electric bikes is based in Fountain Valley, Southern California. Drawing design influence from the beach cruiser bicycle scene, they have built a reputation around style, power, and comfort.
Hardware tend to be mid-level and prices lean towards value. Motiv offers a one year comprehensive warranty and sells through a handful of West Coast dealers. The bikes are sometimes used as a platform for rentals which is a testament to their approachability and reliability. Frames are custom designed from hydroformed aluminum alloy to be strong, spokes are often thicker than average. The bikes usually come in just one size but there tend to be multiple color options. Most Motiv products utilize geared hub motors and offer throttle operation as well as pedal assist. Batteries can be purchased in 36 volt to weigh less and be more affordable or 48 volt to climb better, move heavier riders, and go faster.
Read More
Show Less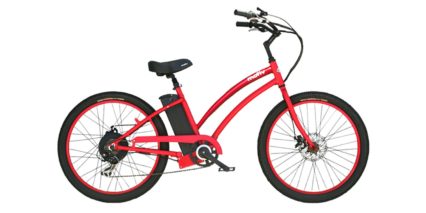 December 2, 2013
---
Cruiser style electric bike that's well balanced with mid-mount battery, well priced and quite powerful. Strong 500 watt geared hub motor is a capable hill climber, made even stronger with…...