Electric Box Bike
Reviews
These electric bikes incorporate large storage areas up front or in the rear, which makes them look boxy… capable of hauling supplies or additional passengers, usually children. In some cases, the manufacturer will sell accessories like sidewalls, padding, seat belts, and covers for the box area to add utility.
Read More
Show Less
---
A bucket style cargo bike with electric assist to help move supplies or children, includes two seatbelts and a little bench, more sporty handling than their three-wheel School Bus model but less stable. Extra wide custom kickstand provides great stability for loading, upright seating position and short reach…...
---
An electric assist box bike with 350 lb carrying capacity (200 lbs in the front basket), plenty of room for cargo or child bench seat with safety belts. Powerful 500 watt geared hub motor in the front benefits from smaller sturdy wheels (20"…...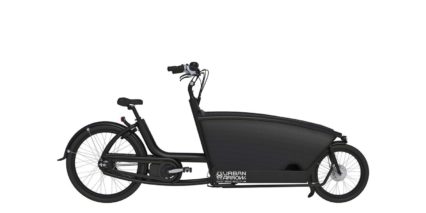 ---
Electric cargo bike specifically designed to transport children with EPP foam box and seat belts, low-step design improves stability for mounting and holding at rest. Uses a reliable, well balanced centerdrive motor from Bosch, offers three levels of pedal assist,…...