Fat Electric Bike
Reviews
This type of electric bike has tires that are wider than 2.8-inches, often 4″ or 4.9″ wide! The increased surface area improves traction, but also increases friction, drag, and noise. Some fat tires are knobby for off-road use and others are slick and smooth for cruising on-road. In general fat tire electric bikes are very stable and comfortable. The air inside can squish to act as a shock absorber and be lowered to help the tire spread out and "float" over soft terrain. Fat bikes began as a niche product for traditional cyclists who wanted to ride in loamy, sandy, or packed snow conditions. Some fat tires can even be used with metal spikes for grip in slippery icy conditions. With the introduction of electric bike technology, the niche has become much more mainstream because motor systems more than offset the weight and drag of fat tires, making them more enjoyable for less athletic riders.
Read More
Show Less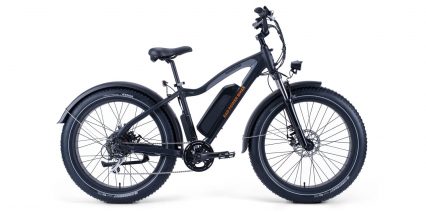 ---
An updated 5th generation full sized, high-step, fat tire electric bike from one of the originators in this category; Rad Power Bikes. Features comfortable 4" wide knobby tires with puncture protection and reflective sidewalls. It's stable and capable in soft terrain like mulch and sand if the tire air pressure is lowered. Features a curved top-tube, short sturdy stem, and mid-rise handlebar for approachability and comfort.. Adjustable suspension fork offers preload adjust for heavy loads and lockout for smooth terrain. Upgraded…...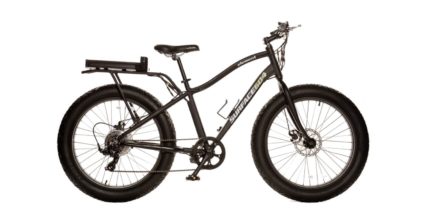 ---
Well-rounded "fat style" electric bike with three levels of pedal assist, a twist throttle and seven gears for going off road. Oversized tires provide cushion on bumps and won't sink in sand or snow, solid derailleur…...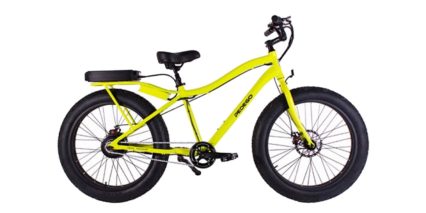 ---
Off-road design with 4" wide tires, increased contact patch enables the bike to ride on sand, snow and other rugged terrain, larger tires also provide cushion for improved riding comfort. Ultra powerful 600 watt geared motor and 48 volt battery pack for improved torque and…...